Though filmmaker Rob Stewart died at 37 after a tragic diving accident this past January, the Canadian activist lived long enough to see his films Sharkwater and Revolution inspire millions of people.
Sharkwater is credited with helping to bring about many global bans on the shark-fin trade. This is where hundreds of thousands of sharks where caught every year for their fins. Stewart did more than help save the lives of sharks. He made many people more understanding and sympathetic towards the usually-feared predator.
New award in his honour
Rob Stewart during promotion for Sharkwater in 2008. (Getty Embed)
Stewart also inspired many young activists to follow in his footsteps. A brand new annual award, the Rob Stewart Youth Eco-Hero Award, recognizes this. Every year, the award will go to a Canadian environmental filmmaker under the age of 20.
Its first winner is French-Canadian teen, Jonah Bryson—a multi-talented 17 year-old filmmaker that Stewart helped to mentor. Jonah will receive the award in a ceremony at the Planet In Focus Film Festival this weekend in Toronto. Happening from October 19th to 22nd, the festival was created to "showcase engaging and artistic films that question, explore, and tell stories about the world in which we live."
Many talents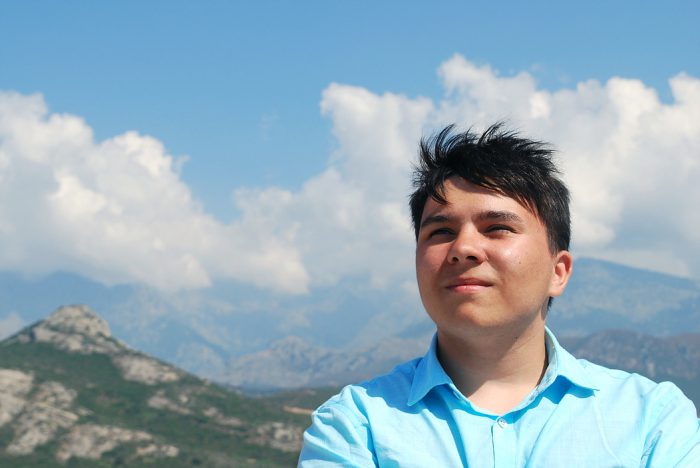 Jonah Bryson returns often to the Mediterranean Sea to work on projects. (Getty Embed)
Jonah was born in southern France and grew up swimming in the Mediterranean Sea. He eventually moved to Toronto with his family, where he first started making films. (His first movie was a stop-motion film using LEGO!) His many talents include music, drawing, painting, writing, public speaking, and scuba diving.
But his most well-known talent is as a filmmaker and conservationist.
From Hadfield to Cousteau
At age 12, Jonah made his first feature film, A Sweet Spot In Time. The film featured undersea explorer Fabian Cousteau and astronaut Chris Hadfield. At 14, he co-directed The Fight For Bala with his hero, Rob Stewart. He has also done several other films, and is already the North American Director of the Ocean Ark Alliance. This environmental group uses film to raise awareness about the world's oceans. Its footage has been used by Netflix, the BBC, and CBC's The Nature of Things.
Of course, winning this award is more than just a professional achievement for Jonah. It's a personal one, too. Stewart was a friend and teacher to him (you can read a moving piece Jonah wrote about him here).
Congratulations to Jonah. We're sure that you'll go on to inspire many artists and activists. You can sample a short film by him called Upside Down below.
Upside Down from Jonah Bryson on Vimeo.