YTV's I Am Frankie follows the story of Frankie Gaines — an experimental android trying to live as a normal human girl. Season 2 of the hit show (which premiered Nov. 5 on YTV) follows Frankie as she tries to keep her identity a secret, hide from military company, WARPA (Weaponized Android Research Project Agency), and protect her friends and family — then things get even more complicated by a new android at school.
We talked to actress Alex Hook, who plays Frankie on the show about acting, life on set, and more. Read on to get the scoop!
OWLconnected: What's your favourite part about being an actor?
Alex Hook: Taking on a character and life that is different than my own. I'm given the opportunity to touch on emotions and feelings that I don't experience often, therefore challenging me each day. Who doesn't love a good challenge?
OC: Who is an actor you admire and why?
AH: Scarlett Johansson and Jennifer Lawrence. Both are such talented actresses who I not only look up to for their successes, but for their ability to take such powerful female roles and truly do the characters justice. It takes a strong woman, and I admire that.
OC: What's your favourite part about working on I Am Frankie?
AH: My favourite part would have to be the experience as a whole. From the long days, to creating a family on set, this project has taught me more than I can imagine. It not only helped improve my acting abilities, but also strengthened my passion and love for the art.
OC: Can you describe what a typical day on set is like?
AH: A typical day on set consists of an early start — about 7:00 or 8:00 a.m., if we're lucky. After a good breakfast and getting camera ready with hair and makeup, I'm taken to set with a long day ahead of me. Each scene takes about an hour to shoot, depending on the length. Once I'm done, I'm taken straight to school to get my daily required hours in.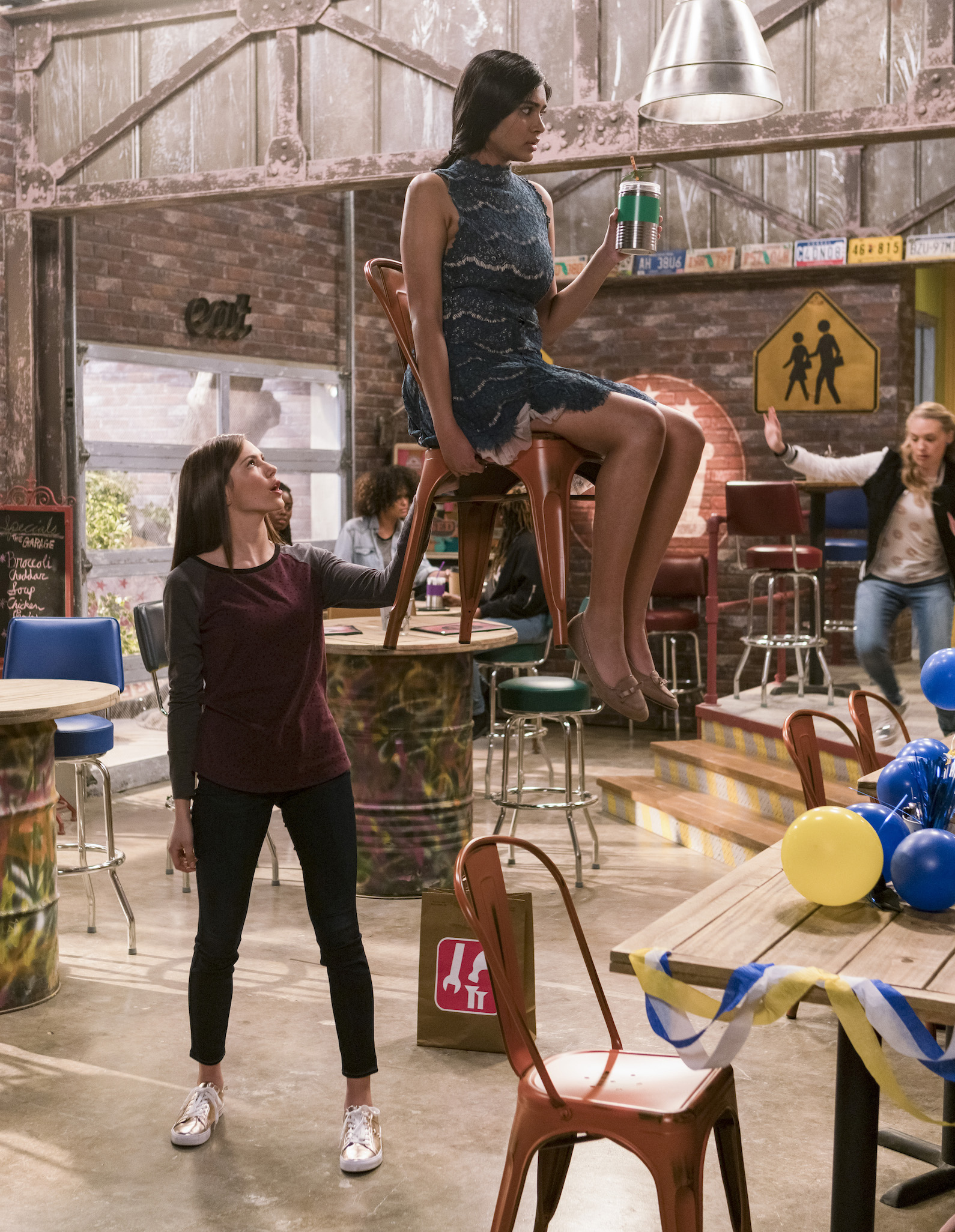 Alex has a busy schedule, but there's always time to show off super-droid strength! (Juan Botero/ Nickelodeon © 2018 Viacom International INC all rights reserved.)
OC: What was your favourite scene or episode to shoot from season two?
AH: Definitely the Eliza and Frankie fight scene. It took us nine hours to complete with all of the wardrobe changes, characters switches (as I played both roles), and camera angles to make sure my body double's face wasn't seen. I shot both sides of the fight, therefore had to learn both sides to the fight sequence. It was very challenging, very long, but extremely fun and memorable.
OC: Are there any challenges you face when playing a character that isn't human?
AH: Playing Frankie as an Android was definitely difficult. I had to find that fine line between human and complete robot. After sitting down with my acting coach for many sessions, I finally knew Frankie better than anyone else and became her when I was on set.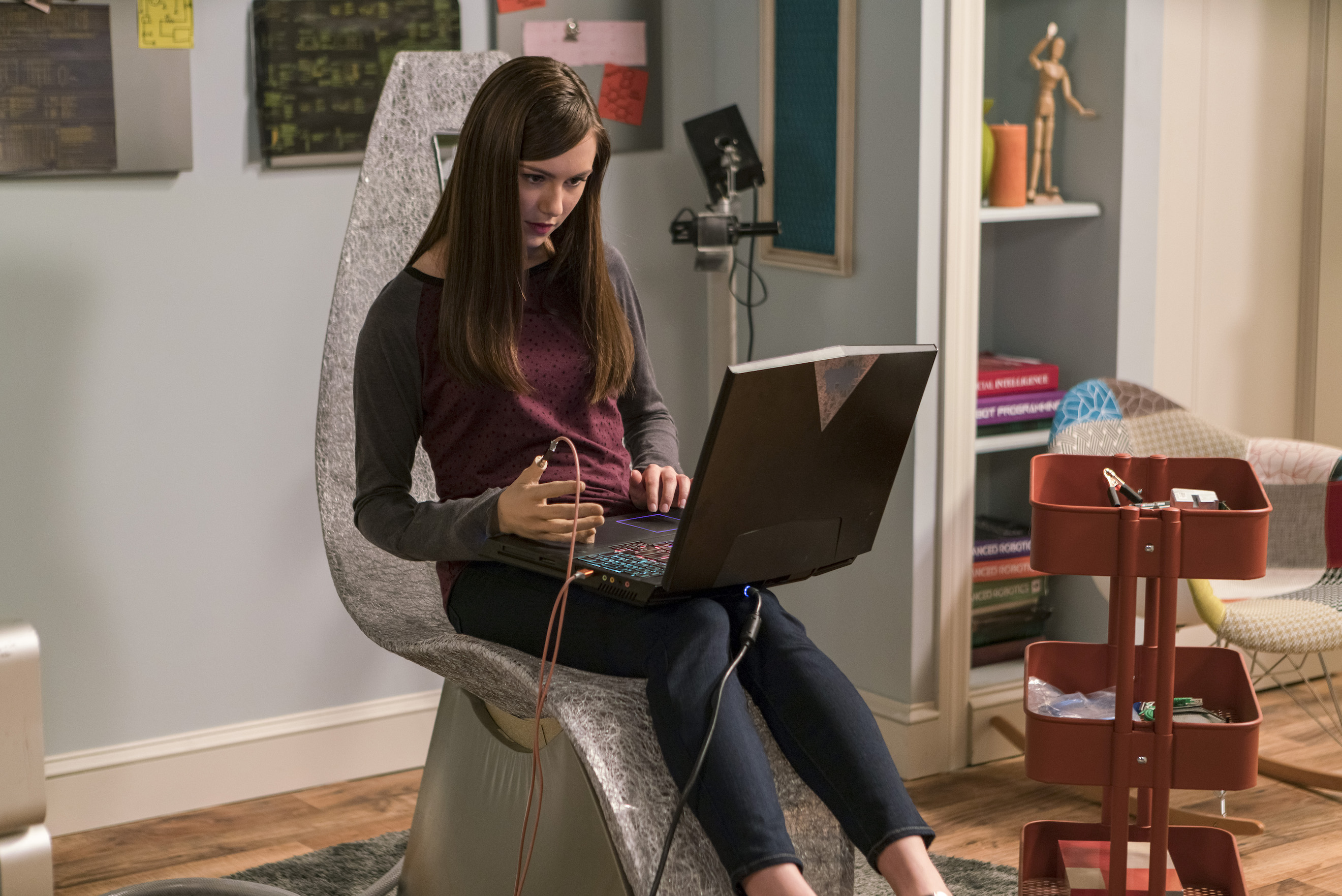 Becoming a robot takes practice! (Juan Botero/ Nickelodeon © 2018 Viacom International INC all rights reserved.)
OC: Is there a character you'd like to play one day?
AH: After shooting multiple fight scenes in the second season, I fell in love with the thought of combining athleticism and acting. I am big on sports and have participated in physical activities all my life. My dream role would be anything from a superhero to villain to a Sci-Fi character with powers. Anything that pushes me physically while also challenging my acting abilities.
OC: Any advice for kids who want to get into acting?
AH: This industry takes hard work. With great success comes sacrifice, and commitment as a job will never come easy. I remember missing sporting events, birthday parties, and lots of school to get to where I am today. But with a supportive family and home base by my side, they motivated me to put forth my best effort in everything I set my mind to. The possibilities are endless in the world of acting.
You can catch I Am Frankie Season 2 Mondays at 6 p.m. E/P on YTV.