Twelve-year-old Auldin Maxwell has built his way, brick by brick, into the Guinness Book of World Records. Again. And…again!
With patience, determination, and a whole toy store's worth of Jenga blocks, this boy from Salmon Arm, BC broke the world record for the most blocks stacked on a single piece. He balanced a whopping 1,400 Jenga blocks (over 25 Jenga sets!) on the precarious top edge of just one vertical piece. Now that's a steady hand!
Auldin built his record-smashing tower on March 27 of this year. With this new stack, he more than doubled his previous record ... which was only set back in this January. If you're keeping track, that's two world records in only three months.
An impressive streak Auldin!
Balancing Act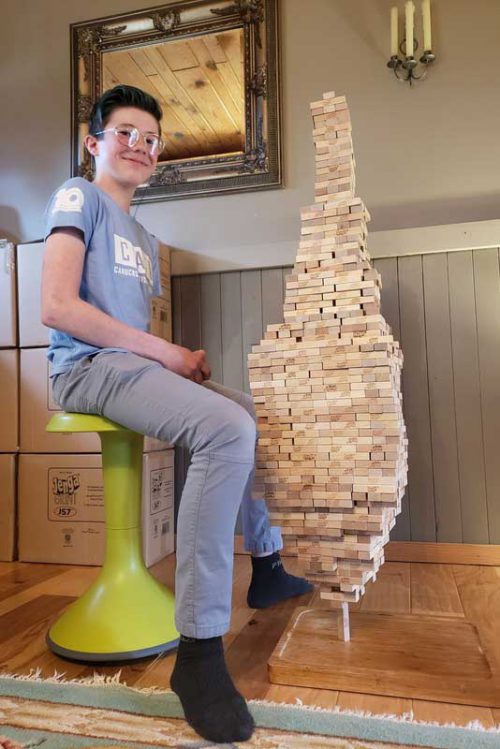 Auldin poses with his record-breaking pile. (Guinness World Records)
For optimal balance, the tower itself almost looks like an upside-down pyramid that then gets narrower at the top. The new record breaking tower is slightly more bulky than Auldin's previous structure of (only?) 693 Jenga pieces.
"I made my 1,400 one fatter because there are 40 layers on it," Says Auldin, "The shorter one's a little easier and more stable."
Stacked for Success
Auldin told Guiness that he has wanted to earn a world record title since he was six years old, and has been balancing things for as long as he can remember.
"His whole life, he has been stacking things," said Kelly Murray, Auldin's mom. "He didn't play with [Jenga] in the conventional way, he just stacked everything he could get his hands on."
Auldin is planning to continue breaking balancing records, and hopes to break his own record by 2023.
Watch in awe here as Auldin builds his Jenga tower to break his own world record. Then enjoy the super satisfying tumble of a whole lot of blocks all at once!