On July 31, a baby giraffe was born in Brights Zoo in Limestone, Tennessee.
The birth of a baby animal in a zoo is always cause for celebration. Many zoos around the world are engaged in conservation efforts to increase the numbers of endangered animals. (Giraffes are listed as a vulnerable species, meaning their numbers have gone down.)
But this birth was extra special because this giraffe was born without spots!
Instead, the young calf has a coat of smooth, brown fur.
One-of-a-kind?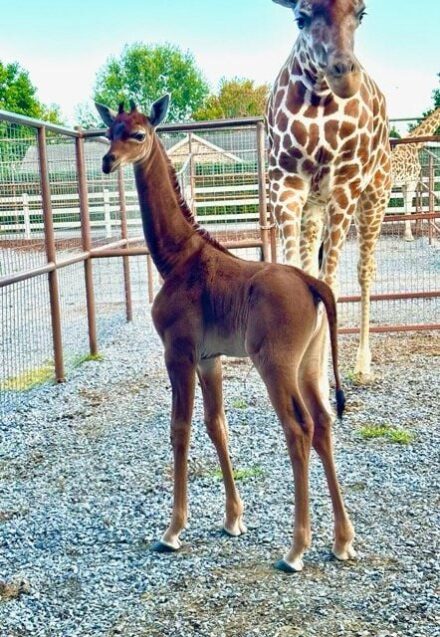 The staff at Brights Zoo have asked the public to help name their new giraffe. (Brights Zoo)
This type of birth extremely rare. There is not another known case of a spotless giraffe anywhere else on Earth—the last known case happened at the Ueno Zoo in Tokyo, Japan in 1972.
The patterns of a giraffe's spots are inherited from the animal's mother. They act as a camouflage to help break up the animal's outline in the wild. This helps them stay safe from predators.
So far, the calf does not have a name, but the staff at Brights Zoo are asking the public for help naming her. They have provided four candidates for them to choose from. All of these are from words in Swahili, a language spoken in some East African nations.
Kipekee, meaning "unique"
Firayali, meaning "unusual"
Shakiri, meaning "she is most beautiful"
Jamella, meaning "one of great beauty"
Which one would you choose? No matter what her name becomes, she is likely to be a star at the zoo for years to come.