This Tuesday, May 14, the Tata Consultancy Services 2019 goIT Student Tech Summit was held at the Toronto Reference Library. What's that, you ask?
We're talking 200 students in a room, all eager to show off their proposals for new apps that could help make the world a better place. (All apps had to focus on at least one of the 17 UN Sustainable Development Goals, or SGDs!)
Months of planning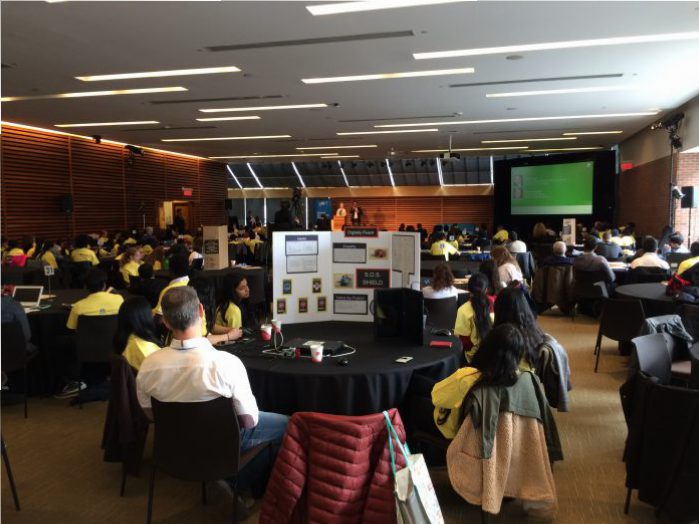 The house was a full on Tuesday... full of science! (OWLconnected)
Since autumn, student groups from 40 schools, grades K to 12 have been meeting, planning, and building up to this event. Their thoughtful ideas covered issues like mental health, food, toy sharing, plastic recycling, tutoring ... and everything in between.
Although we were unable to speak to everyone (sorry!), we managed to grab a few minutes with four of the groups, including students from Central Toronto Academy, who won a flash challenge to develop an app in just two hours on the spot! (Whew, that's pressure!) We also spoke to one of the 2018 winners of the Yellow Trillium app, Sowmika Sasikaran about how her team's victory affected her and about judging this year's event.
Okay people, let's talk apps!
Norway Jr. PS — App: MENU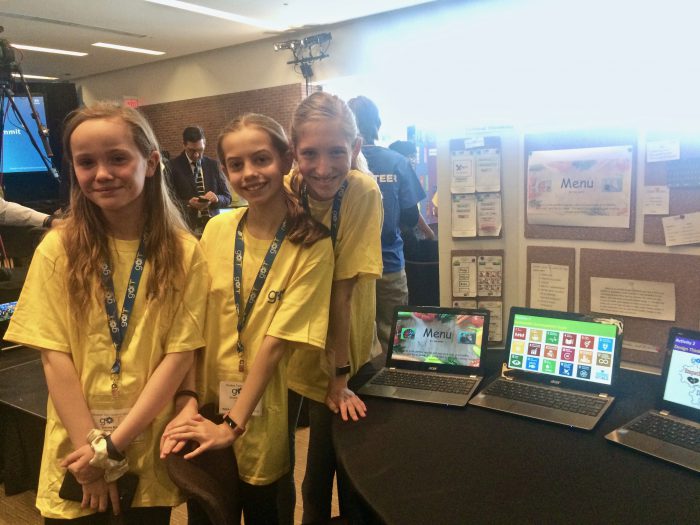 Brooke Byers, Vivienne Campbell, and Hannah Swinnerton from Norway Jr. PS wanted to make planning family meal time easier and less wasteful for everyone. (OWLconnected)
OWLconnected: Can you tell us about your app?
Brooke Byers: MENU is an app where you can make your kids' meals, but very fast, so it doesn't take a lot of time.
Vivienne Campbell: It makes a meal less time consuming.
Hannah Swinnerton: And there's no wasting food. A lot of kids can be very picky — "I don't like the food and I'm throwing it out!" — and that's just a big waste.
OC: What are your hopes for the app?
BB: We hope that this will one day become a real app.
VC: We think it would be very helpful.
HS: My brother, he's very picky. I'm kinda picky, too! I think that if this gets out there in the real world that would be a big use. Some people don't have as much food as we do [but then] some people just throw their food out without taking into account that we're lucky to have it!
Oakdale Park — App: Wellness Express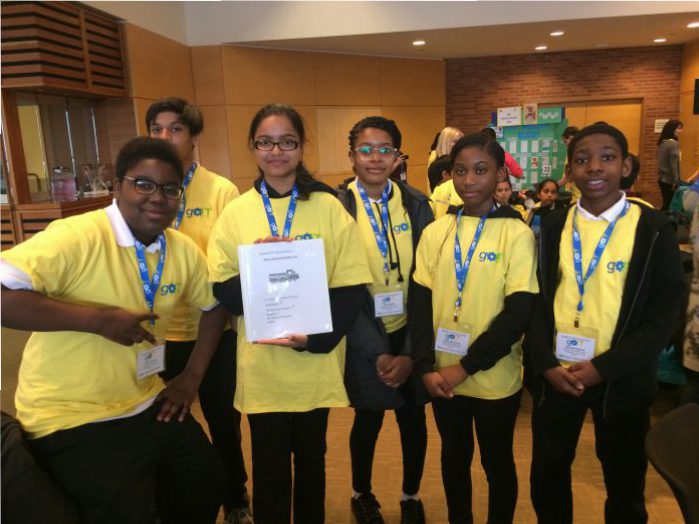 Franklin Palmer (left), Christine Juman (centre left), and Gwen Appiah (centre right) spoke to us about their Oakdale Park team effort. (OWLconnected)
OC: I understand that your app deals with mental health. How does it work?
Gwen Appiah: It's an app to help manage your mental health, or diagnose you to see if you have a mental illness and next steps if you do have one.
Christine Juman: It's not only for those who struggle with mental health, but those who want to get a better understanding of [those who do struggle] also.
OC: What led to you wanting to do this?
Franklin Palmer: I see it as something that deserves more attention. I see kids who are really being bullied for their issues and problems, just because they're a little bit different, and I want to change that.
Central Toronto Academy — App: Up-Grade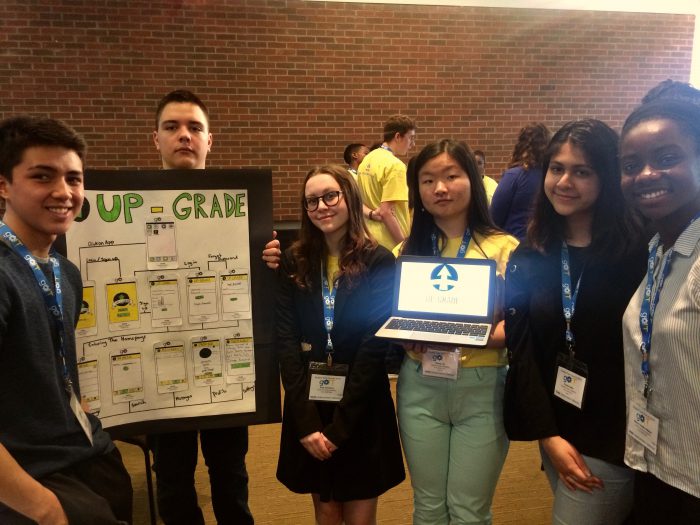 These students from Central Toronto Academy — Kai Henderson, Maksim Krauchanka, Emy Cameron, Kamy Lin, Farwa Zafra, and Mariam Asafu-Adjaye — ended up receiving first prize in the day's SDG Challenge. Congrats! (OWLconnected)
OC: Okay, tell me about your app! Why did you want to make it?
Emy Cameron: Up-Grade is designed to help students with learning outside of the classroom, whether that's more education or more opportunities to help peers. We saw the need to make this app because we found that a lot of students maybe weren't doing so well and that they might benefit from a peer-tutoring environment, rather than a teacher who might not have enough time for all of the students.
OC: Were there personal experiences that led you to want to make it?
Kai Henderson: Well when you think about it, education is a great way to move up in society and the more that you learn, the more valuable you'll become. So people that are left behind in the school, or who don't feel like they're getting enough help, we want to help those people with this app.
OC: What do you think of this event?
Kamy Lin: It's very large scale. I was surprised!
OC: Have you been to anything like this before?
Everyone: No! (laughs)
CW Jeffrey's CI — App: Calmifi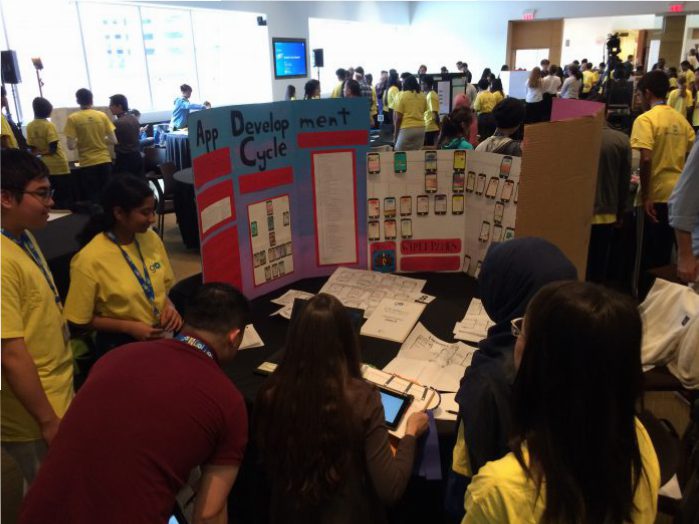 Students from CW Jeffrey's CI present their app to one of the day's judges. (OWLconnected)
OC: So how did you begin to make this app about dealing with stress?
Sweta Raj: We had to determine our main idea for the app. So we asked questions like: Who's our demographic [the people the app would help]? What are the common problems they experience? And How much knowledge do they already have on this issue? We figured that if the problem was stress, we had to help users by determining their sources of stress.
OC: That's well thought out! How are you all feeling about today's event?
Pinar Koc: We are excited that we have the opportunity to help relieve many youth, such as ourselves. However, we do feel nervous considering the competition... but we feel decently confident in our app!
Last year's winner speaks!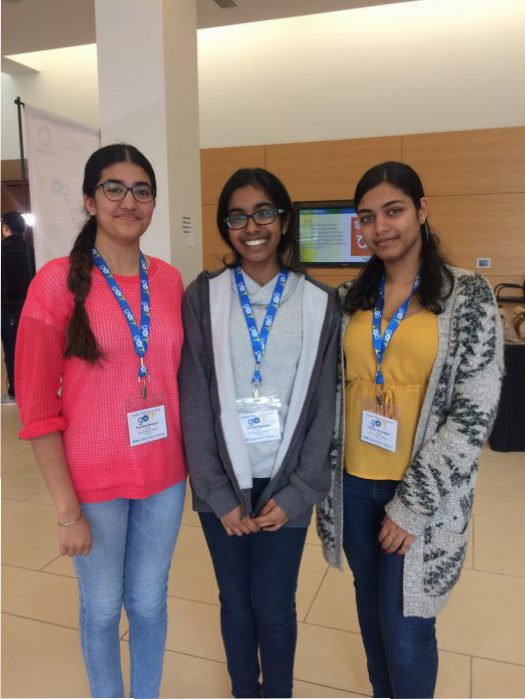 Thisaana Karunagaran, Sowmika Sasikaran, and Gurmehar Khangura all returned to judge — and cheer on — this year's students. (OWLconnected)
We can understand both Pinar's confidence and her nervousness! The entire room was full of dedicated students presenting innovative apps. In the end, students from Parkdale CI won first prize for their healthcare app, but picking a winner could not have been easy for the judges!
Three of those judges came from last year's winners for their immunization tracking app, Yellow Trillium. We spoke to Sowmika Sasikaran about how the goIT Student Tech Summit changed her world.
OC: What was the summer after you won the competition like?
Sowmika Sasikaran: It seemed like TCS [Tata Consultancy Services, the event's sponsor] really wanted to move forward with our idea, because tracking immunization records for Ontario citizens is something that's really important, especially since this year there's a lot of measles outbreaks.
So the Innovation Lab [we attended] was basically two weeks in the summer where we went to [TCS] and we really thought out what our next steps for our app would be. The first week we learned a lot about coding, because, we're not all techie girls! So we got more of an understanding of how it would be made. We really got to understand how we could collect data and how Ontario citizens could use our app.
OC: Were you surprised? Like, this app is more work than I thought!
SS: When it comes to the coding, it's basic stuff, but you still have to be a genius with it (laughs). We were surprised by how much people really liked our idea. Like, people really wanted it to become an actual thing!
Contest alert
Don't miss our Science Odyssey Family Contest. Click HERE TO ENTER.
Science Odyssey is a two-week, Canada-wide celebration of all things science, technology, engineering, and math (STEM). Find activities in your area HERE.