We love the month of May for lots of reasons, not the least of which being warmer weather! But the biggest deal? Science Odyssey!
From May 4 to 19, this two-week celebration rocked our experiment-loving world. So much so that we had to hold our own contest: The 2019 Science Odyssey Family Contest!
All families had to do to enter was to document themselves in the act of exploring science together. Whether experimenting, exploring the wonderful outdoors, or simply performing some science related reading and research, all of it qualified as an act of science. And acts of science are great! Speaking of great...
Prized prizes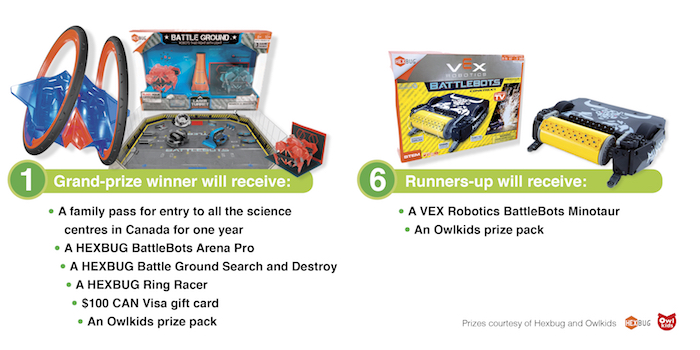 Prizes courtesy of HEXBUG and Owlkids
We definitely had some terrific prizes for our winners. One grand-prize winner receives a year-long family pass to all of Canada's science centres (whoa!), a VISA gift card, a bunch of sweet HEXBUG tech prizes and more. We had six runner-up prizes to award as well.
Now that the contest is closed and the judging has been done, we're pumped to get to our winners!
Grand-prize winner: Connor
This year's winner is Connor, 12, from Stratford, Ontario. He conducted three experiments with a snap circuits fan, a collection of paper airplane designs to see which would fly furthest, and then defying gravity by attempting indoor skydiving (Cool!). Here's a video of Connor doing his thing below!
Runners-up
These six runner-up entries each get a VEX Robotics BattleBots Minotaur and an Owlkids prize pack. Congrats to:
Hyera, 6
Elijah, 9
Chloe, 8
Connor
Kyran, 7
Nolan, 9
Congrats to everyone who won, and thanks to all who entered! We received hundreds of entries and it was so inspiring to see all of your projects. Great work, everyone—we hope you had fun!