This past Saturday, a very important flight left Toronto's Pearson International Airport. It's destination? Abu Dhabi, the capital of the United Arab Emirates.
And its passengers? Forty-five high school students from across Canada... all traveling in the name of science.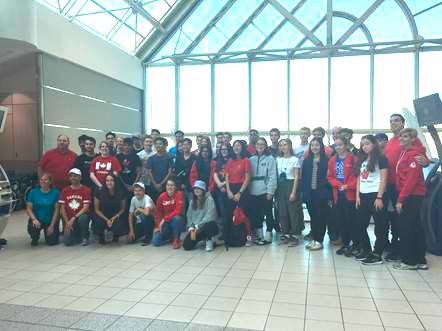 Ready to board! The 45 students pose for a photo in Toronto before flying to Abu Dhabi. (Courtesy of Torchia Communications)
These students have been carefully selected to represent their country at ESI 2019. This is the MILSET Expo-Sciences International. Starting September 24, this massive youth sciences exposition features around 2,000 students from around the world. What a trip to take!
While these students are undeniably lucky, none of them are there by accident. It's all thanks to their big, wonderful brains!
Best of the best
The 45 students are all from Grades 9 to 12 and showcase a huge cross-section of the country — they come from eight of its provinces and two of its territories. And they got to this point by winning various regional and provincial science fairs, before finally distinguishing themselves at the biggie: the Canada-Wide Science Fair.
In fact, all 45 were category winners and finalists from the 2018 and 2019 Canada-Wide Science Fairs. And now at ESI 2019? The level of competition is only growing. After all, they will be showcasing their innovation and ingenuity alongside 1,500 other young minds, plus another 500 students from their host nation, the United Arab Emirates. Sounds like a good reason to be nervous!
Except...
A chance to exchange ideas
The really cool thing about events like ESI 2019 is that they are primarily expositions, not competitions. Sure awards are presented, but this isn't really about competing. It is about exchanging cool ideas... and even making new friends, too! And after international conferences like this, who knows where one's future might lead?
View this post on Instagram
Seven days with fellow students from over 50 countries digging through over 600 STEM projects? Sounds overwhelming, wild, enormous, jam-packed, and just plain exciting!
We wish all of Canada's representatives an amazing time — can't wait to hear how it goes!