Being able to move around freely is such a simple thing for many of us. But for someone who is physically disabled, let's say missing a limb, there's plenty that can be difficult about it. Fortunately, prosthetic (or artificial) limbs can help a lot. These devices (some of which can be quite ingenious and complex) give a disabled person the chance to move, reach, or grasp in way that is similar to the majority of people. That's no small thing. In fact, whether it's for a human or another animal, it's a pretty big thing.
Meet Mosha
At seven months old, Mosha was a pretty typical female Asian elephant calf living in Thailand. Then she accidentally stepped on a landmine near the Myanmar border. This part of the world has a long history of conflicts, and forgotten landmines (a bomb buried in the ground) are still scattered in places. The explosion cost young Mosha most of her front right leg. Even though she survived the blast, such an injury places a lot of strain on an animal as heavy as an elephant. But that's when something miraculous happened.
Let's be friends
Friends of the Asian Elephant (FAE) is an elephant hospital in Thailand. It specializes in nurturing back to health sick or injured elephants. In the wild, these animals would likely die. FAE gives them a caregiver dedicated to them. Mosha has lived here most of her life, alongside her caregiver, Palahdee.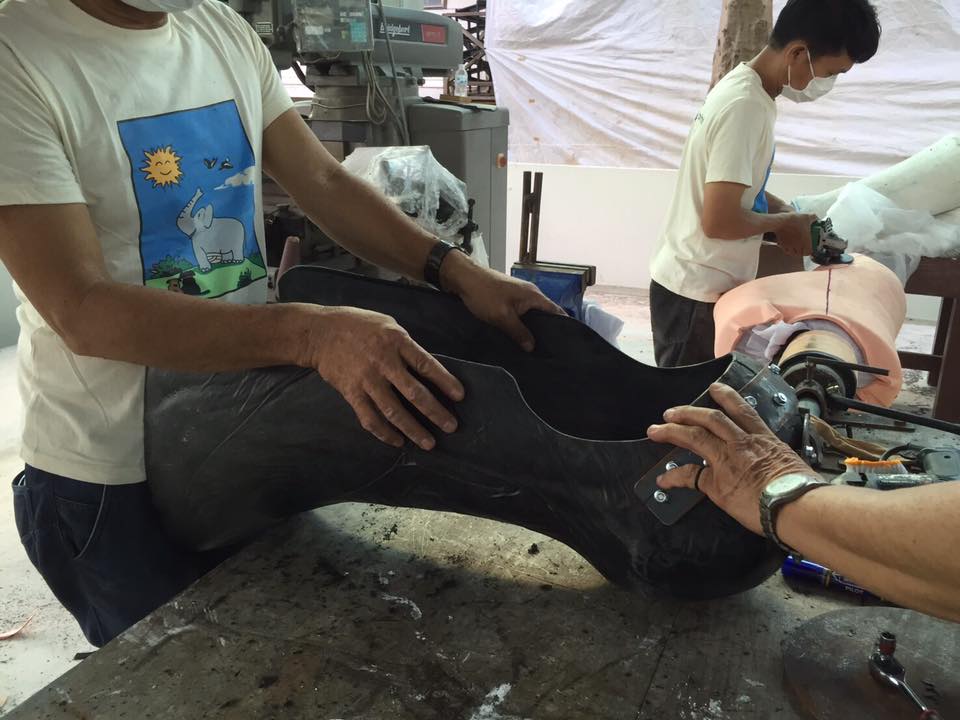 Hard at work on Mosha's new leg. (Courtesy of Friends of the Asian Elephant)
The hospital also works to pioneer, or create, new techniques to help injured elephants. This includes prosthetic limbs. A Thai surgeon named Therdchai Jivacate is a master of making prosthetic limbs for people and animals. He has made around 20,000 limbs over the course of his career. But a case like Mosha, who is now ten years old, is a special one. He has made nine limbs in total over her life. For one, as Mosha grows, new limbs need to be made to accommodate her increased weight and size. But Dr. Jivacate also looks to improve the design each time, giving his elephant patient the most comfortable and durable new leg possible. And it seems that Mosha appreciates the effort. Dr. Jivacate even says that she gives him a little salute when he comes by!
Mosha was just given her ninth limb last week, and it's such a touching thing, we thought you'd love to see it.