When NASA launched SpaceX's Crew-1 mission, nicknamed Resilience, on Sunday November 15, they sent four astronauts into orbit on a historic mission.
Make that four astronauts and one wise alien guru.
Because it turns out that a plush The Child, a.k.a. Baby Yoda from the Star Wars series The Mandalorian, was also on board the capsule. That's him floating around in the image above. Adorable!
Zero gravity, achieved you have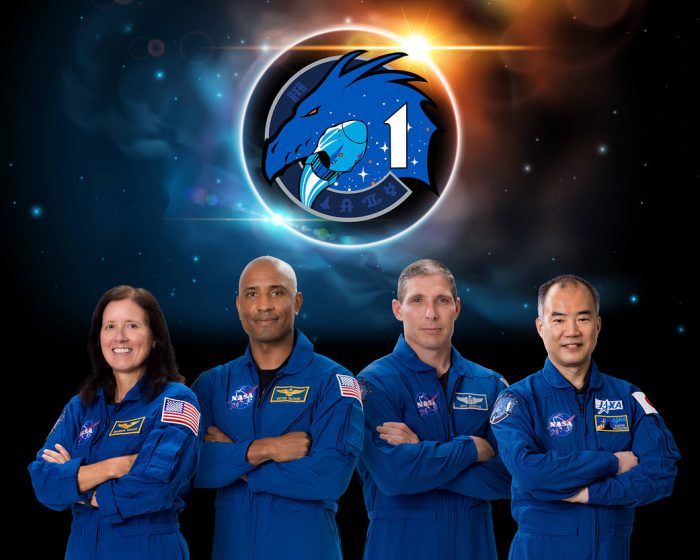 The crew of Crew-1: NASA astronauts Shannon Walker, Victor Glover, Mike Hopkins, and JAXA astronaut Soichi Noguchi. (Norah Moran/NASA)
The toy actually had a purpose, even if it wasn't a super serious one. It's traditional on crewed missions to have an object that is released inside the cabin when the craft leaves Earth to show that they are now officially in 'zero gravity'. (Technically, this is microgravity, but the force is so weak that it appears as though there's no gravity at all.)
This object is often some kind of toy or gadget. According to the astronauts, they chose Baby Yoda for this mission's indicator because, well, it was fun. And 2020 could use a little more fun!
"It's been a tough year," said mission commander Mike Hopkins at a NASA press conference. "I think everybody, when you see [Baby Yoda], it's hard not to smile, and so it just seemed appropriate. It seemed appropriate for our crew as well. We like to have a lot of fun, and we have been having a lot of fun!"
All of us down here on Earth were certainly inspired by Resilience's successful launch earlier this month (which we discuss in more detail in our newest eMag!), and the addition of Baby Yoda is the icing on the cake. We're so excited about the adventures of all five of these space travellers on board the International Space Station over the next few months.
May the Force Be With You all!