From kayaks to canoes, quick sprints to lazy paddles, many of us enjoy the chance to take a small boat out on the water. Exploring rivers, ponds, and lakes is so much fun!
Not as much fun? Carrying boats from place to place. After all, a kayak glides effortlessly on the water, but it's not something that you can just throw under your arm as you leave the house.
Inflatable rafts can fit easily in a bag. But the time it takes to blow them up, and the risk of accidentally puncturing the craft is a problem.  ffissssssssss ... the air is all gone!
But a recent startup project called the Backpack Barge has a different approach. It is a foldable, rigid plastic device that goes from a suitcase-sized slab to a one-person boat. Now in its second version, a.k.a. 2.0, it's pretty cool!
Quick change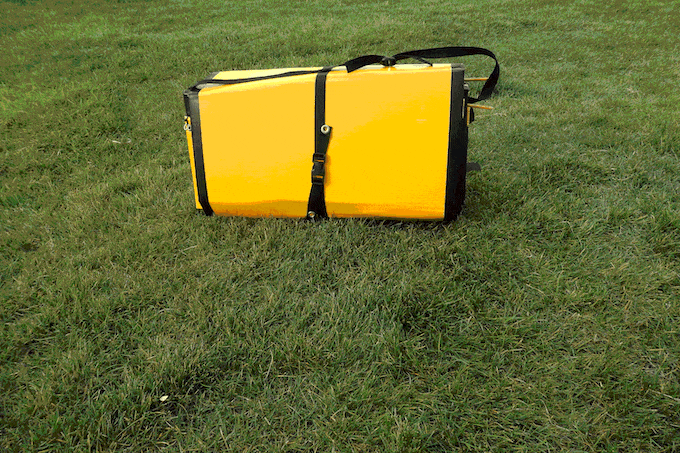 "Auto-box, transform and row out!" The Backpack Barge 2.0 in action. (Getty Embed)
The craft is definitely not what you would expect from a boat. It is, well, boxy! There is no narrow, pointed bow. It's basically a plastic rectangle. You're not likely to win any rowing races in this thing.
But what the Backpack Barge 2.0 lacks in speed and style, it makes up for in portability and durability.
Despite being fully collapsible, the boat can take a beating. It even can handle some white water adventure! And then there's just how easy it is to carry and set up. You could go for a hike through a national park with this strapped to a backpack and be ready to go for a relaxing paddle in just a few minutes. For that kind of convenience, we're okay with the fact that it's not the smoothest or most stylish boat on the water.
Row, row, row your boat ...