Every two weeks we publish a new issue of our tablet and computer-friendly eMag, OWLconnected. It's free for OWL magazine subscribers!
Issue 120 is out NOW and it's for the bees. Literally! You see, May 20 is not only the release date for this new issue. It's also World Bee Day. So, what's the buzz all about?
Let's fly into the hive and find out!
We love bees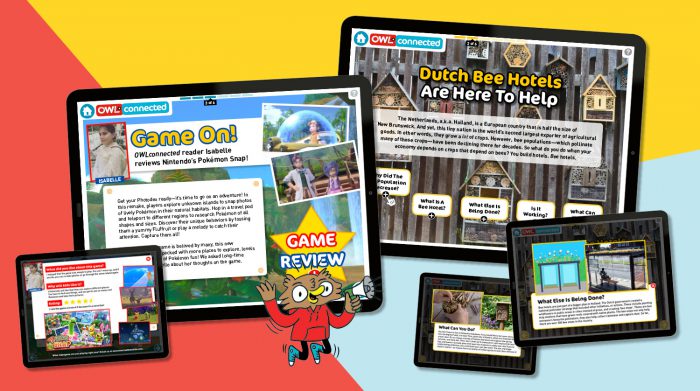 World Bee Day exists to draw attention to not only the awesomeness of bees, but the difficulty of their situation. Bees are dropping in numbers around the world, and that's a real cause for concern. Why? We get into it!
Then we show you a wonderful way that people are helping out ... with bee hotels! This phrase might paint a funny picture in your mind ("Excuse me, I booked a room for a family of bees with a honey hot tub included!"), but trust us, they are a real thing. We travel to Holland to see how the country has committed itself to helping bees bounce back. And we also tell you how you can make your own backyard a welcome place for bees.
But that's not all! We also hear from OWLconnected reader Isabelle, who gives us her review of the brand new Pokémon Snap video game. And do you like sea turtles? Because this issue's quiz is going to test your knowledge of these amazing marine reptiles.
It's one sweet issue. And if you're already a subscriber, you can click here to sign in to the eMag right now!
If not, maybe it's time to take your OWL experience to a whole new level! Get ten print issues a year sent right to your door, plus over 24 issues of our exclusive eMag by subscribing right here.