Beluga whales are a common sight in many Canadian waters, especially in Arctic waters. The southern most place that they live in Canada is in the St. Lawrence Estuary (an estuary is a place where fresh river water meets the saltwater of the open sea).
A pair of St. Lawrence belugas. (Getty Embed)
This small, beloved population of whales has lived here for centuries... but occasionally, one or two of them go for a wander. Like the so-called Bathurst Beluga, a young lost male whale that was rescued last week and returned to its St. Lawrence home.
Wandering whale woes
Two weeks before this happened, the whale accidentally swam into the Nepisiguit River in northern New Brunswick. The town of Bathurst is built around the mouth of the river, which is where our flustered friend got his name.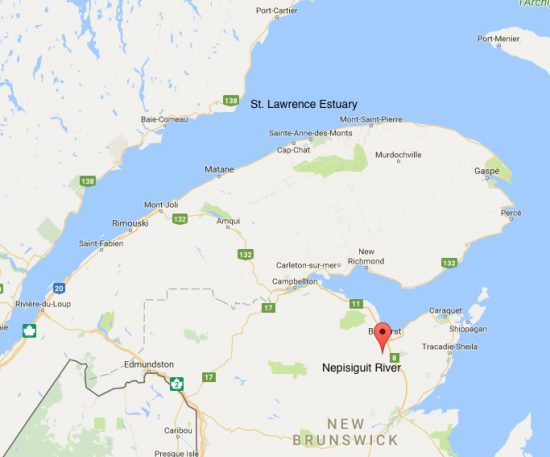 (Google Maps)
Scientists quickly understood that the whale had swam too far up the river and was not going to be able to get back out all by himself. Rescue time!
But a rescue like this one would be tricky. The whale would first have to be gently captured in a giant net, lifted up on a large inflatable mattress, covered by a wet blanket, and carried by several people to a truck. It would then be driven to the airport, flown to Rivière-du-Loup, Quebec, and driven 50 more km (31 mi.) until it finally reached its destination. That's quite an unusual journey for a creature that never leaves the water. (And did we mention that it had never been tried before?)
But they pulled it off!
There, there, beluga buddy
One of the most important things the rescuers needed to do was keep the beluga calm. Sadly, he was not in the best shape when they found him. A journey like that can put a wild animal under a lot of stress, which is potentially harmful if the creature is already unhealthy. Happily, it was reported that this guy was pretty relaxed during his difficult trip.
Experts are hopeful that this effort will allow the young beluga to fully recover and join a new pod, or group, in the estuary. Plus, St. Lawrence belugas are declining, so a move like this is one that can help the entire pod!
For now, the whale seems to be doing well. Scientists are tracking him and keeping a close eye as he regains his strength. Good luck, beluga!