This past Tuesday, the Canadian Space Agency announced that David Saint-Jacques was selected as the next Canadian to fly a mission in space. He'll begin training in August for a mission that is set to launch in November 2018. He'll fly on a Russian Soyuz rocket and head to the International Space Station (ISS). His mission will be to test the effects of microgravity (the near weightlessness of space) on the human body.
At a press conference, Saint-Jacques was clearly excited and humbled to be told he finally had a date with space. "The doctor in me is eager to conduct experiments and experience first-hand the effects of microgravity on my body," he said, "the engineer in me is eager to operate Canadarm2 (a giant robotic arm on the ISS), the astrophysicist in me is eager to look at the stars while floating in my space suit, and of course, the adventurer in me, he's just eager."
First of two new astronauts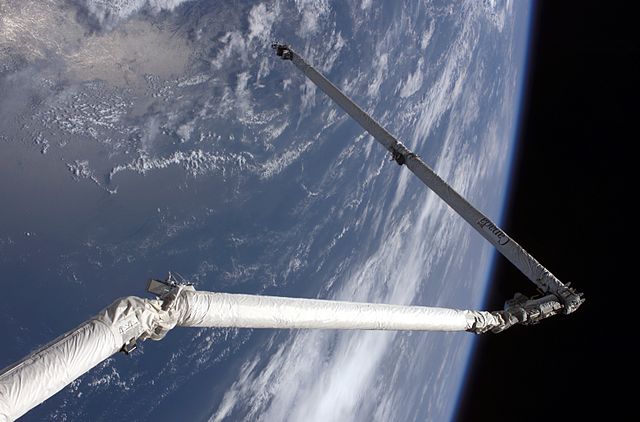 The Canadarm2 is used to perform tasks by the crew of the ISS. The first Canadarm was found on the Space Shuttle. (NASA/Wikimedia Commons)
Saint-Jacques, who is 46 and from Quebec City, was announced as one of two new Canadian astronauts back in 2009. The other is 40 year-old Jeremy Hansen from London, Ontario. Since that time, both of them have been training and waiting for the moment that they get the call. (Hansen is expected to launch around the year 2024. In case that sounds like a long time, keep in mind that planning a mission to space is no walk in the park! It's complicated, delicate, and most of all, expensive!)
Saint-Jacques will have some pretty big shoes to fill. The last Canadian in space was Chris Hadfield, who became famous around the world for his engaging webchats, as well as recording a cover of David Bowie's "Space Oddity" while in orbit. (He was also the first Canadian commander of the ISS, so it wasn't all fun and games up there.)
Fly me to the moon (or at least outer space!)
But Saint-Jacques, who holds degrees in medicine, engineering, and astrophysics, clearly isn't getting ahead of himself. This mission will be the fulfillment of a lifelong dream that started when he first saw a picture of the Earth that was taken from space.
"I remember thinking, 'Wow. That's a hard picture to take,'" he recalled. "So I asked my father, 'Hey, Dad. Where was the photographer standing?' And he told me, 'Well, David. The photographer, he was standing on the Moon!'"
That was all it took to hook the young boy. Two and a half years from now, he'll get to take his own stunning photos of his home. In the mean time, check out this beautiful video of a sunrise as seen from on board the ISS, posted by astronaut Jeff Williams.
Good Morning! Sunrise bursting on the scene followed by beautiful ocean sun glint. We get 16 of these every day!https://t.co/UKanwP0Bv8

— Jeff Williams (@Astro_Jeff) May 13, 2016
Good luck, astronaut David Saint-Jacques!