Back in May, we wrote about the Canada-Wide Science Fair. This annual event is a showcase for young inventors and researchers from across the country. It's an amazing thing, especially for this year's platinum winners, Danish Mahmood, Crystal Radinski, and Colette Benko.
Why is that? Because their adventure was only beginning!
This September 22 to 27, the decorated trio recently went as Team Canada to Tallinn, Estonia for the 29th European Union Contest for Young Scientists (EUCYS). This is a top notch international competition that collects 146 of the world's brightest and most ambitious 14 to 20 year-old minds in one place to strut their stuff.
Though the competition is focused on European nations (such as Spain, France, Bulgaria, Sweden, Finland, and Germany), participants also came from countries outside Europe, like China, Egypt, South Korea, the United States.
And know what? Our Canadians did awesome!
Canadians make their mark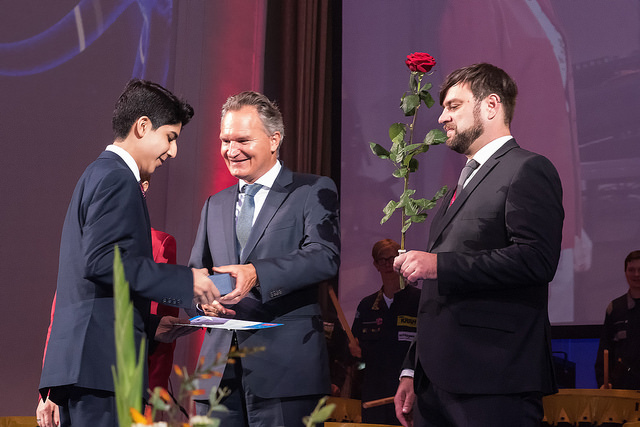 Danish accepts his top prize at EUCYS. (Youth Science Canada)
In fact, Danish Mahmood's project on a new medical monitoring system won one of the three top prizes, worth €7,000, or around $10,000 CAD! Meanwhile, Colette Benko's cancer treatment research was also given one of three second prizes (€5,000 or $7,500 CAD).
In the end, Canada was the only country with more than one project in the top nine finishers. And at 14, Danish was also the youngest competitor in this top group (many were 18 to 20, and none were younger than 16). Way to go!
What an opportunity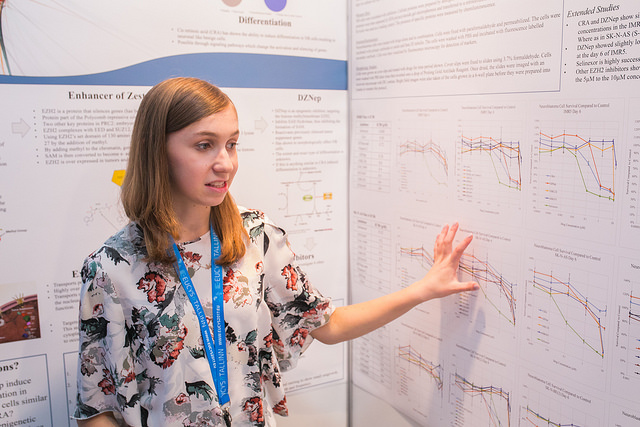 Colette explains her project at her booth at EUCYS. (EUCYS 2017)
That said, competition is one thing. (It's certainly something that has driven famous scientists throughout history!) But community is another thing. For Danish, Colette, and Crystal, this event was a terrific opportunity to meet and exchange ideas with brilliant young people from across the globe.
Covering the fields of biology, chemistry, computing, engineering, environmental issues, materials, mathematics, medicine, physics, and social sciences, the amount of ideas on hand was breathtaking. There was so much to learn!
Many of the past participants in the EUCYS have gone on to great careers in science. Is that what awaits this year's participants? Maybe we'll let them answer that question for themselves. We're pretty sure they each have some ideas on the subject!