One of the first big events of every year is CES, or Consumer Electronics Show. If you haven't heard of it before, the name kind of says it all.
This huge Las Vegas-based conference — which is happening right now — is a chance for electronics companies from around the world to preview all of the latest, greatest, wildest, and weirdest gadgets and devices coming to a store near you. And these days, it's about more than just tech.
Plant-based meats like Impossible are changing how many of us get our protein. (Getty Embed)
For example, one of the big hits at this year's CES has been plant-based meat company Impossible. They introduced their Impossible Pork and Impossible Sausage at the conference, drawing long, hungry lineups.
What else is on tap at CES 2020? Here's just a tiny sample...
Having a Ballie
How nice of you to roll by, Ballie! (Getty Embed)
South Korean tech giant Samsung has a new personal assistant bot: Ballie. It's basically what it sounds like, a small yellow ball that rolls around the home and helps out anyway that it can. Of course, for Ballie to be effective, you need to already have a "smart home" (one where things like the TV, heating, and other appliances are hooked up to a central computer system). But in this environment, Ballie can do everything from wake you up and guide your workout to play with the dog and monitor the house. Plus it's cute and recognizes you!
Take it for a spin in this video.
Turning TVs
Another thing Samsung is very well known for are its huge, high-definition TVs. From televisions that cover entire walls to ones that roll up into the ceiling, these are some impressive devices. This year, they unveiled a new 8K QLED (a.k.a. super HD) TV that is nearly bezel-less. In other words, it has almost no border and essentially appears to be all screen. But even more curious is its new Sero TV. This thing can sync up with your smartphone and rotate to play YouTube or personal videos that were shot vertically.
Still having trouble 'picturing' it? No sweat — just watch the video that The Verge shot at CES.
Pizza pizzazz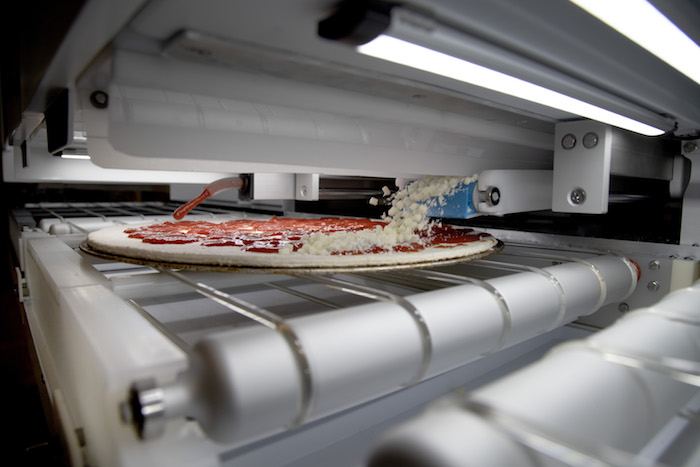 Pizza making, commence! (Courtesy of Picnic)
Impossible isn't the only company making mouths water at CES 2020. Seattle tech startup Picnic unveiled their pizza-making robot. We've covered robots making food before, and this concept actually seems fairly simple. The flat surface of a pizza and the way that it can bake while being slowly rolled along a conveyor belt actually make it the perfect robot-made food. Someone send us a sample already!
It's for Wheel
Wheel.me is a Norwegian company that is aiming to change how we move furniture around. Basically, it's a system of wheels that you can place on any piece of furniture, from chairs and couches, to desks and cabinets. These wheels can then be wirelessly connected so that they can be either voice or remote controlled so that they can be easily moved. Though it sounds pretty extravagant in just an everyday home (how many times can you really rearrange the living room?), we can totally see how it would be helpful in offices or meeting rooms.
Have a look in the video below.
wheel.me Genius from wheel.me on Vimeo.
Horseshoes!
Finally, we want to look at a new PC innovation: Intel's Horseshoe Bend foldable laptop. It's tough to know exactly what to call this one. A laptop? A PC? A tablet? All of the above? Basically, this is a device with all of the power of a personal laptop computer, at the same size as a 12-inch laptop, too. The big difference? It has a foldable screen — the largest foldable screen so far. This means that it can open up and be used as a much larger screen for projecting videos and photos. So whether you're using it as a computer or a screen, this thing is powerful and portable.
It's still a prototype, but you can see the gadget in action here.
And that's just a taste of what CES 2020 has been about so far. And for even more cool tech, be sure to check out the Snapshot feature in the January/February issue of OWL Magazine, out now!