It seems that we're in an experimental mood these days at OWLconnected. On Wednesday, we talked about a test involving 'marshmallows' and cuttlefish. Today? It's music and ... cheese?
Yes, cheese! Thanks to the Cheese In Surround Sound project, we now know how certain types of music affects the taste of cheese. What? Really?
Yes, really! In this curious study, Swiss cheesemaker Beat Wampfler and a team from the Bern University of Arts put nine 10 kg (22 lbs.) wheels of Emmental cheese in separate wooden crates in their cellar. Then, for six months, 24 hours a day, they played different genres of music for each individual block of cheese. Then, they had a team of chefs taste the results.
Aging is important to cheese. It lets bacteria multiply and grow, affecting its flavours, aroma, and texture. But can music really change cheese, too?
The Parmesan playlist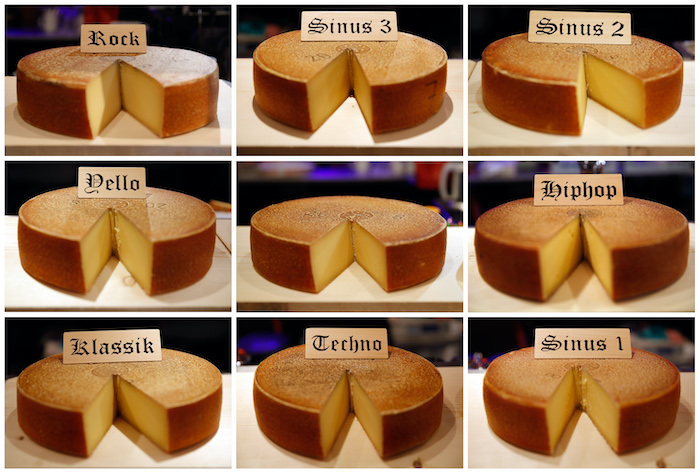 Meet the contestants! (Courtesy of Cheese In Surround Sound Experiment)
In the experiment, the nine cheese wheels were given these different sonic loops (continuously playing music). The sound was 'injected' into the cheese using a mini-transducer, which directed the music directly at that individual wheel.
Classical—Mozart "The Magic Flute"
Rock—Led Zeppelin "Stairway To Heaven"
Ambient—Yello "Monolith"
Hip Hop—A Tribe Called Quest "Jazz (We've Got)"
Techno—Vril "UV"
Constant low frequency tone (bass sound, like a rumble)
Constant mid frequency tone (like a hum)
Constant high frequency tone (like a whine ... with your cheese)
Silence (this is what is called a 'control'—showing how the cheese would age normally for comparison)
Those cheeses were certainly going to come out of the experience with great taste in music. But would the music also give them great taste?
A Tribe Called Cheese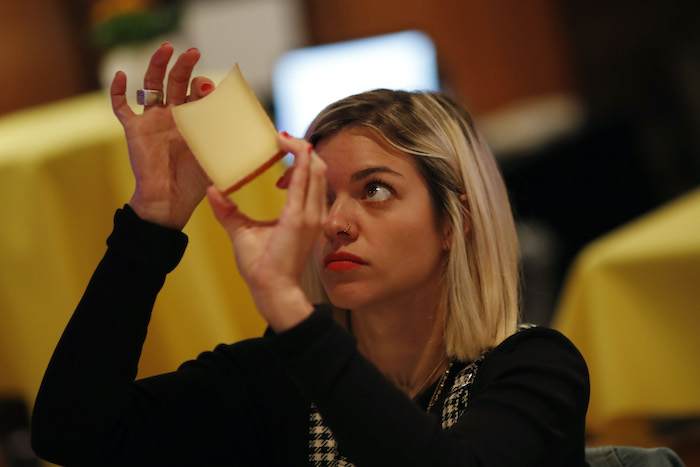 Taste, aroma (scent), and texture were all considered by the judges. (Courtesy of Cheese In Surround Sound Experiment)
The answer is yes. When the music stopped and the crates were opened, the chefs discovered that the sounds had definitely changed the fascinating fromage.
According to their taste buds, the cheese that had heard the music all had milder, more sophisticated flavours than the one that had just silence. And of those musical cheeses, which one hit the top of the charts?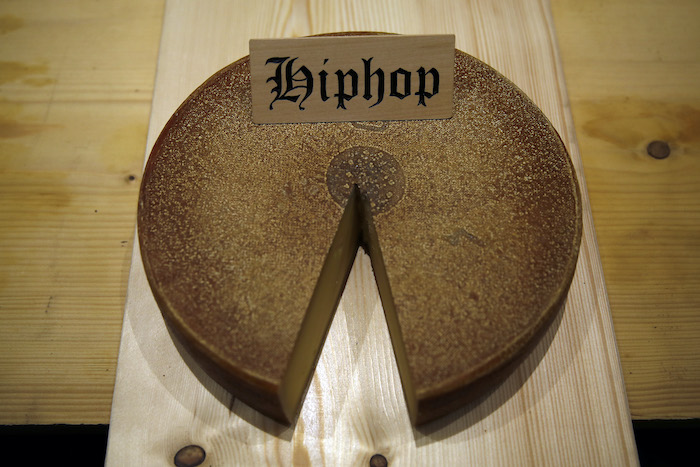 Any surprise that the hip hop cheese was especially funky? (Courtesy of Cheese In Surround Sound Experiment)
The judges said that it was the hip hop cheese, which had a "discernibly stronger smell and stronger, fruitier taste than the other test samples." (One of the individual judges felt that the classical one was top.)
So is this conclusive evidence that music changes cheese? Maybe not conclusive, but it certainly is interesting to consider. And also a lot of fun. As one of the chefs, Benjamin Luzuy put it, "For chefs like me, these results are fascinating. This opens up new avenues for us in terms of how we can work creatively with food in the future."
Wampfler already has plans to continue the experiment using a variety of different hip hop songs in the future, too. Cue the record!