How many animal species do you know of that are endangered? Sadly, it's a common problem—even if you're aware of the problem, it affects more animals that you'd think. But...
Where there is danger, there are heroes!
Where there is peril, there are stories of survival!
And a brand new exhibit at the Ontario Science Centre, Wildlife Rescue, has plenty of both.
So many ways to rescue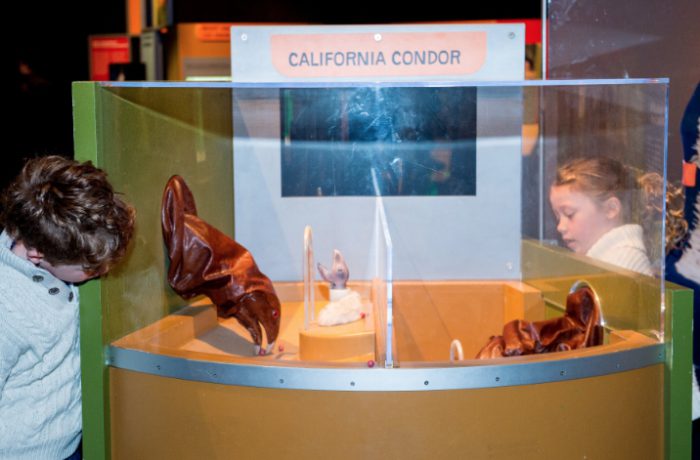 "Feeding condors" as a part of the Wildlife Rescue exhibit. Volunteers actually uses puppets like these to feed orphaned condor chicks. (Ontario Science Centre)
From pandas to condors, turtles to orangutans, bees, butterflies, and owls, there are many animals that rely on human conservation efforts to stay alive. And just as there are many different species in danger, there are many different strategies needed to help them survive.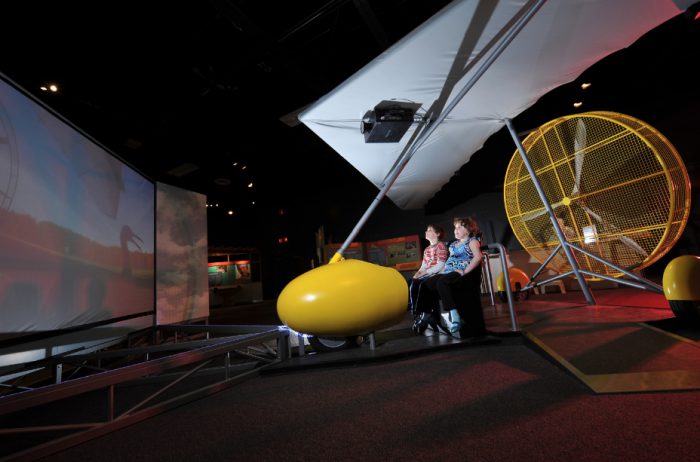 This super cool movie feature lets you follow whooping cranes on their first migration. (Ontario Science Centre)
Wildlife Rescue not only looks closely at many of these methods, it gives you a chance to get close to them. You can follow whooping cranes as a team helps them migrate for the first time from Wisconsin to Florida. You can crawl under traffic through a tunnel designed to protect turtles. Or maybe you'd like to teach baby elephants to use their trunks to grab objects? And then test your knowledge about oil spills to protect ocean wildlife? Like all of the exhibits at the Ontario Science Centre, there is tons of hands on stuff to do.
It all starts at home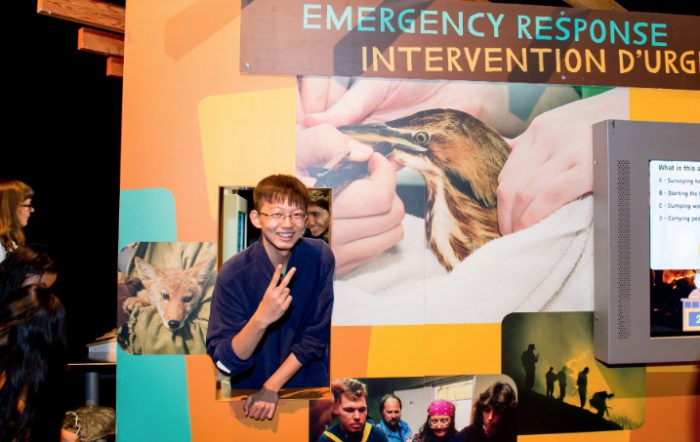 There are all kinds of ways to help out wildlife at risk! (Ontario Science Centre)
Of course, most of us aren't going to find ourselves out in the field helping these animals directly. That's why, the exhibit's Home Front section focuses on ways that you can assist wildlife in your everyday life.
This exhibit is running all summer long in Toronto until September 4, 2017. Science North, the excellent science centre in Sudbury, Ontario, put together the exhibit. It has already completed a Northern Ontario tour to Sudbury, Kirkland Lake, Sault Ste. Marie, Kenora, and Thunder Bay.
Here's your chance to WIN!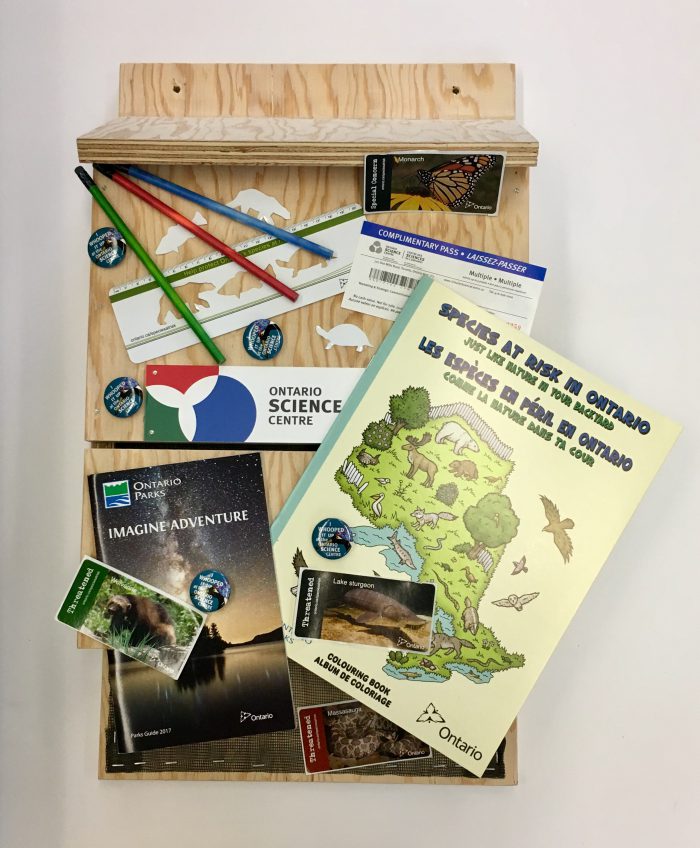 (Ontario Science Centre)
THIS CONTEST IS NOW CLOSED.
One of the animals in need of conservation are bats. Bats live all over Ontario and represent 1 in 5 mammal species in the world! But some of these species are in trouble. At the opening event for this exhibit, bat expert Cylita Guy talked about ways that we can help these fuzzy flyers. And we're giving one lucky OWLconnected reader a chance to help out at home with a bat-tastic prize pack!
It includes:
Multi-pass good for up to 5 people to visit the Ontario Science Centre
An Ontario Science Centre Bat House to decorate as a family (put this up outside your home to give a safe place for bats to roost!)
Lots of Ontario Science Centre swag (buttons and pencils)
Plus, Ontario Parks swag, too! (Species At Risk In Ontario colouring book, stickers, stencils, and a 2017 park guide)
For your chance to win the pack, just tell us:
What endangered animal would you like to help save?

Answer in the comments below. Good luck!
Contest is open to residents of Canada only. Transportation to the Ontario Science Centre is not provided and will be the responsibility of the winner. Contest closes on Friday, June 2nd at 11:59PM EST. Winner will be randomly chosen. Prize courtesy of the Ontario Science Centre. Full contest rules and regulations can be seen here.