Astronauts are some truly daring folks. From the recent Canadian visitor to the ISS, David Saint-Jacques, to the future occupants of the Moon, you need a lot of guts to leave this Earth and brave the great unknown.
But it takes more than just courage. It takes teamwork, peak fitness and health, and a big old brain filled with the latest science and tech to make a modern space traveller. Think you have what it takes? Well, the Canadian Space Agency (CSA) believe there's no time like the present to find out.
That's why they've created the Junior Astronauts activities program. What's that, you ask? Observe!
Three streams, one dream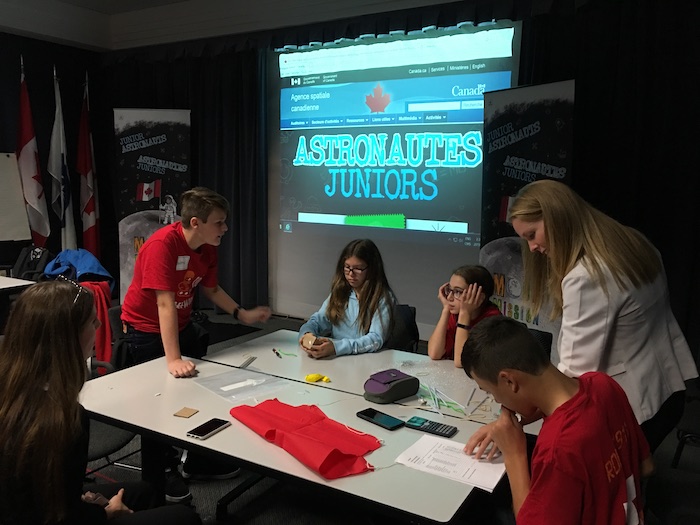 These space-based activities challenge students in ways that are similar to an astronaut's training. (Canadian Space Agency)
The Junior Astronauts program is a series of activities based on the three streams most relevant to a real astronaut's skills.
Science and Technology
Fitness and Nutrition
Teamwork and Communication
In each stream are around a dozen activites designed for Grades 6–9 and at all kinds of skill levels. Covering what, you ask?
Maybe you'll learn about Bernoulli's Principle (the key to flight) or form a hypothesis about life on other planets? Or collect 'moon rocks' while you design a snack fit for Mars? And can you get the job as you interview for a position on a possible Mars space station?
These tasks are just the tip of the moon-berg! There's so much stuff to do!
Out of this world prizes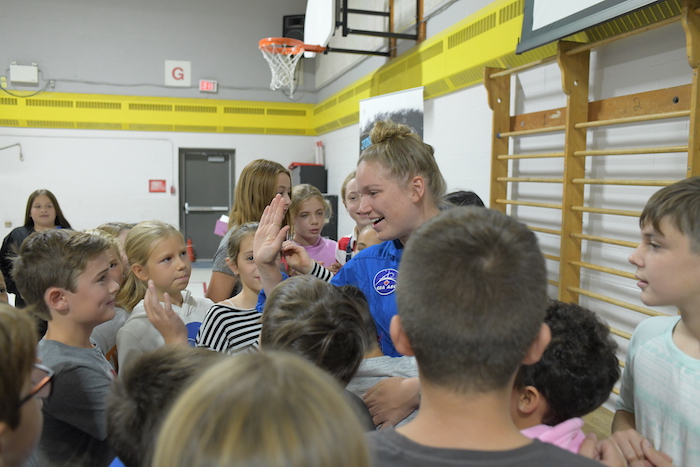 Canadian astronaut Jenni Sidey-Gibbons meets students from Courtland Park International School in Saint-Bruno-de-Montarville, Quebec early this year. (Canadian Space Agency)
Learning about science and health through space is its own reward, but everyone still likes prizes, right? Like, say, an astronaut visiting your school? That can be arranged! Any class that completes at least one full stream can enter to win an astronaut visit next spring!
And beyond that, super keen students who complete all three streams can enter to be accepted to space camp. Yeah, an actual week-long Junior Astronaut Camp next summer at the CSA headquarters in Saint-Hubert, Quebec! The CSA is going to select entrants from every province and territory, so you all have a chance to win. Provided you're up to the task of proving your space mettle!
Learn more about the program, including how to register your class, right here.