Back on December 3, 2018, Canadian astronaut David Saint-Jacques began his six-month odyssey on board the International Space Station (ISS). Now, 205 days later, he's ready to return to Earth.
At about 4 pm, he and crewmates Russian Oleg Kononenko and American Anne McClain will climb aboard their Soyuz capsule, the Russia built vehicle that shuttles astronauts to and from the ISS. A little over six hours later, they will land somewhere in Kazakhstan, a large country to the south of Russia.
Wild ride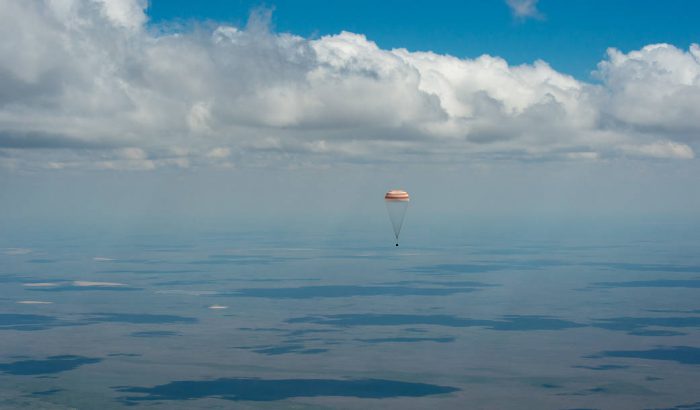 A more peaceful moment in a typical Soyuz lander's trip home. (NASA/Bill Ingalls)
Even though this journey has been made around 140 times without any issues, the return to Earth will be a wild ride. In interviews, past astronauts have described certain moments of the trip as riding over Niagara Falls in a barrel that's on fire and like traveling inside a giant yo-yo.
Sounds, uh...interesting!
But when the final parachutes are released on the capsule and David Saint-Jacques finally does touch down on Earth again, he still has a long journey ahead of him.
Road to recovery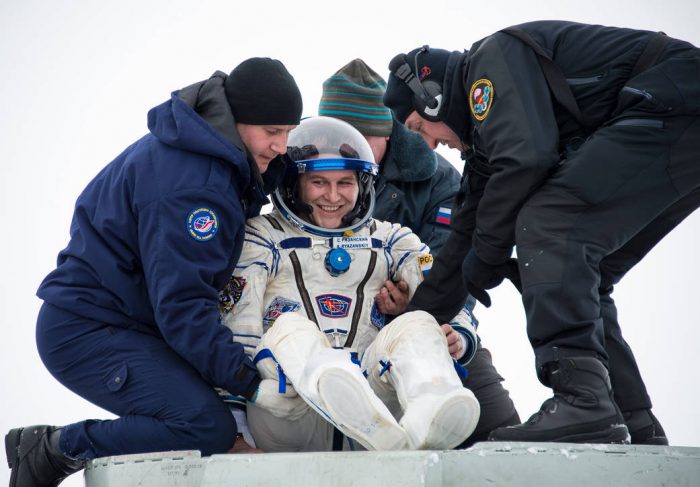 Russian Expedition 38 Flight Engineer Sergey Ryazanskiy is helped out of a Soyuz Capsule on Tuesday, March 11, 2014. (NASA/Bill Ingalls)
You see, all of those months spent in microgravity really puts stress on the human body. Or more precisely, it doesn't put enough stress on a person's muscles and bones.
Despite constant exercise on the ISS, Saint-Jacques will land with weaker muscles and bones than when he left. The sudden power of Earth's gravity will feel so strong that he likely won't be able to stand up by himself at first. And even once he is able to walk again, he still will need therapy and workout routines to rebuild his strength and get back to normal. He'll even deal with moments of nausea — an Earth sickness that is kind of like motion sickness in reverse.
Bottom line, his body and brain need to remember what it is like to be an Earthling again! Or as he put it in his last interview before leaving: "After six months in space without gravity, I've learned how to fly. Now I will have to learn how to walk properly again."
Increasing our understanding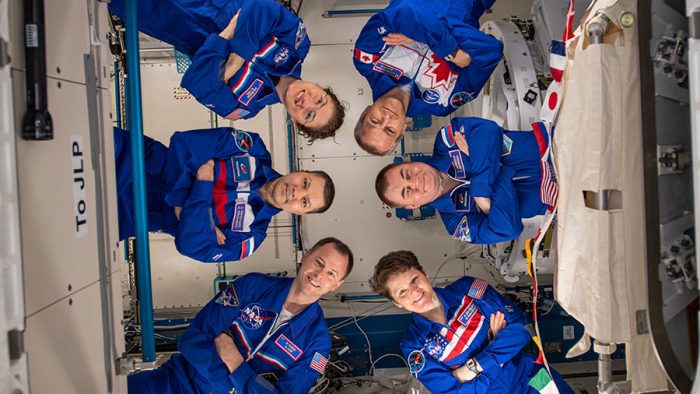 Astronauts like these help us understand more about how to stay healthy in space. Clockwise from centre left are, Commander Oleg Kononenko and Flight Engineers Christina Koch, David Saint-Jacques, Alexey Ovchinin, Anne McClain, and Nick Hague. (NASA/Bill Ingalls)
So if coming back to Earth is so difficult, why make the trip at all? Especially for such a long time? After all, David Saint-Jacques has now spent longer in space than any Canadian ever!
Well, astronauts like him help scientists better understand how microgravity affects humans. And if we're really going to make a colony on the Moon or send people to Mars, then astronauts like Saint-Jacques are giving us incredibly important information.
And then there's the fact that he got to spend half a year in orbit. That's an incredible honor that he and all of the astronauts on the ISS worked for years to realize.
"I think it's all going to feel like a dream," he said about his mission. "I am trying to burn it into my memory as best I can."
Good luck, David and welcome back!