Every day, we work hard to give you great content here on the OWLconnected website. But that's only part of what we do here at Owlkids!
For over 40 years, we've been producing OWL magazine, still Canada's number one science, nature, and culture magazine for readers aged 9–13. That's ten issues a year of straight-up fun! And if you're an OWL subscriber, you get another big bonus: the bi-weekly OWLconnected eMag comes free with your subscription!
Every two weeks, the tablet and computer-compatable eMag features tons of new, exclusive content. From interviews and features, to videos and quizzes, so much more.
Issue 105 of the OWLconnected eMag was released yesterday, and we're so pumped, we wanted to show it off to you now!
Young Heroes bring smiles!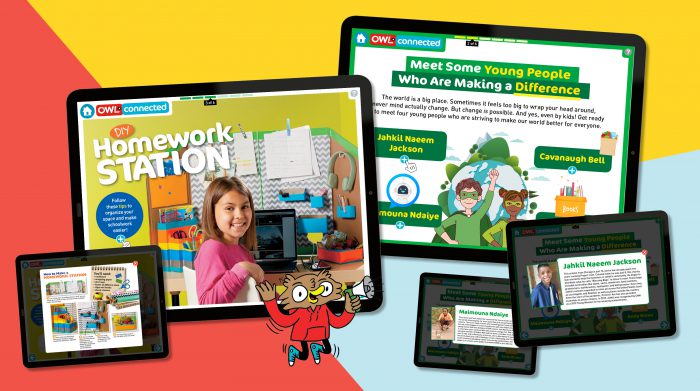 This issue is all about bringing people joy!
We start off talking about World Smile Day—which is actually today—an international day to spread smiles by doing a good deed for someone. Then we look at four young heroes who are using their time and skills to help those in need. From helping kids deal with grief to encouraging girls to engage in coding, these awesome activists are full of positive vibes and big change.
The issue also offers tips on how to turn an average desk into a full-on, gadget-storing homework station, a silly and surprising quiz on coconuts, art and opinions from our readers, and more!
If you're already a subscriber, you can click here to sign in to the eMag right now!
If not, take your OWL experience to new heights! Get ten print issues a year sent right to your door, plus over 24 issues of the exclusive eMag, by subscribing right here!