It was supposed to happen at around supper time Sunday. Instead—thanks to a mishap featuring ballot-chomping letter opening machines (Literally! The machines were chewing up the voting envelopes!)—Canada had to wait until deep into the night for the result.
But eventually, it did happen. The Conservative Party of Canada (CPC) elected its new leader.
"Good morning," he said to Canadians in his 1:00am EST acceptance speech. "I'm Erin O'Toole."
So let's meet him.
Who is Erin O'Toole?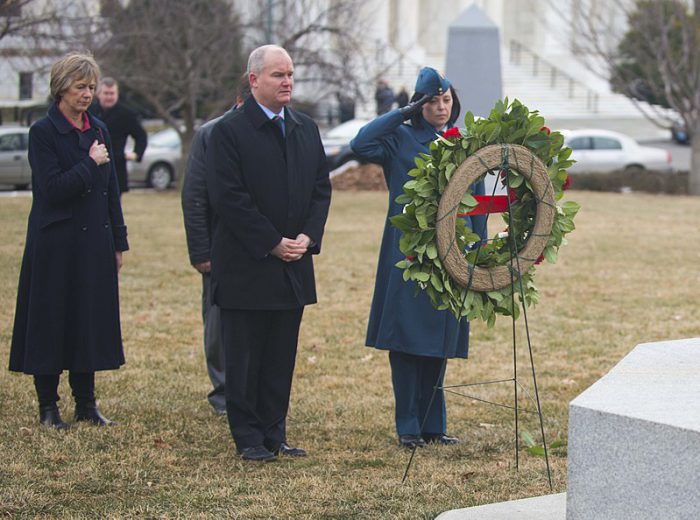 O'Toole (centre) is a military veteran and was once the Minister of Veteran Affairs for Canada. (Wikimedia Commons)
As of right now, he is the leader of the second most popular political party in Canada. And he could be the country's next prime minister.
This was his second time running for the leadership of the CPC. In 2017, he came third behind Maxine Bernier and the previous leader, Andrew Scheer. When Scheer lost the 2019 election to Justin Trudeau, he stepped down, clearing the way for O'Toole to take another shot.
He has also been the Member of Parliament for Durham since 2015, and has served in the military as a captain.
Whom did he beat?
Peter MacKay (right) meeting in Washington, DC in 2012 as Canada's Minister of National Defence. (Getty Embed)
O'Toole's opponents in the leadership race where Peter MacKay, Derek Sloan, and Leslyn Lewis. MacKay is a long-time politician and was seen by many as the most likely new leader. This makes O'Toole's win a bit of a surprise.
Meanwhile, Sloan and Lewis were newcomers to this level of politics. Sloan, who came fourth, is an Ontario lawyer and business person. Lewis is a lawyer and immigrant from Jamaica who was hoping to be the first ever Black female leader of a major Canadian political party.
Why did he win?
O'Toole is eager to help Canadian businesses of all kinds. (Getty Embed)
O'Toole's pitch was to appeal to the CPC's roots as a party that supports small businesses and has strong foreign policy (how a country interacts with other countries). His view is that the Liberal government under Trudeau has both weakened Canada's international reputation and has been involved in too many scandals.
He also feels that small businesses have been harmed by Trudeau's policies—as well as the pandemic—and that the Canadian economy can be improved by investing in Canada's domestic (or home-built/grown) products and resources. O'Toole was also supported by powerful, influential Conservative politicians, like Alberta Premier Jason Kenney.
What are his challenges?
In 2019, Andrew Scheer stood for a lot of the same things as O'Toole does. And most experts agree that that is not why he lost. Instead, he and the CPC failed because of his stand on social issues (such as LGBTQ and women's rights) and climate change. By not participating in Pride events or having a policy that took climate change seriously enough, too many Canadians felt that Scheer was not the right leader for these times.
Many agree that these issues are O'Toole's biggest challenge. Can he bridge the gap that Scheer couldn't? In his speech last night, he already made an effort to reach out to LGBTQ, Black, Indigenous, and People of Colour, saying that they were welcomed in the Conservative party. Meanwhile, his policy on climate change is yet to come.
With another election possible this fall, he and his team will need to work quickly to put it all together.