Are you ready to read about a volcano in Canada? A 2.5 kilometre (1.5 mile) high home to rare life that covers 2,000 square kilometres, about as big as the country of Monaco? (Okay, so Monaco is one of the smallest countries in the world, haha, but still! Wild stuff!)
Why haven't we heard about this awesome mountain before, you ask. Where is it? In the Rockies? The far north?
Actually, it's underwater!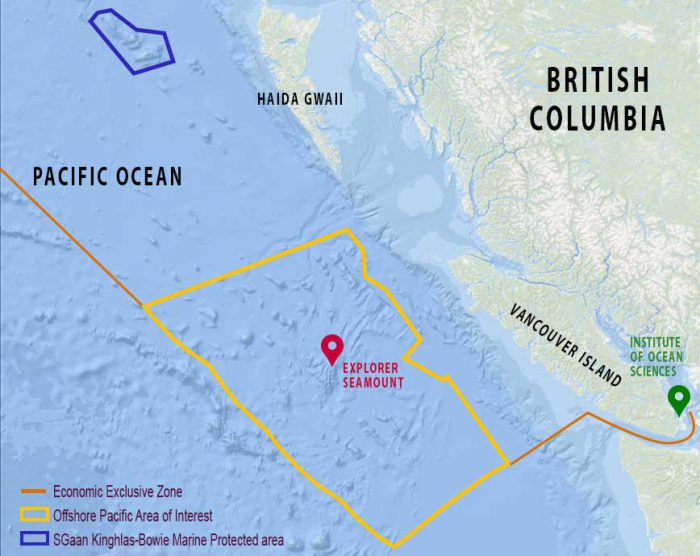 The location of Explorer Seamount. (Fisheries and Oceans Canada).
Explorer Seamount is its name, and on July 17, a group of scientists are in the middle of a two-week long expedition to explore its mysteries. Mysteries that include species that are brand new to science!
It all began a year ago
How can scientists be so sure that new species exist down there? Because, they've been before.
Last year, 2018, was the first time that marine biologists explored the surface of Explorer Seamount. They used robots equipped with floodlights and cameras to catch a glimpse of an area that had never seen sunlight before. (Though Explorer Seamount is quite tall, it is in such a deep part of the ocean that even its peak is far below the water's surface.)
Scientists encountered an ecosystem that was incredibly vibrant and diverse. One scientist described it to CBC as being a "sponge garden" that was "lost in time" and as having a biodiversity that was "much like a tropical rainforest."
Sounds beautiful!
A proper look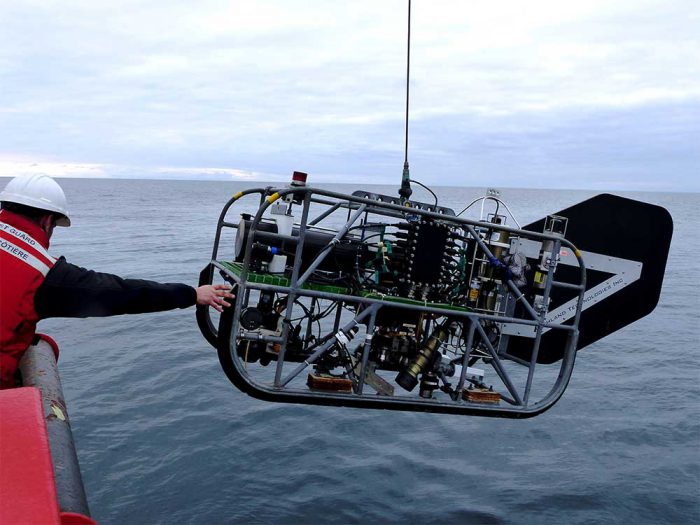 Meet BOOTS, the Bathyal Ocean Observation and Televideo System that will be exploring Explorer! (Fisheries and Oceans Canada).
But if scientists have already seen this forest, why go back? To get a proper look!
That first visit in 2018 only lasted four hours. At the time, scientists didn't anticipate that they would see so much diversity and life.
This time, marine scientists are better prepared to focus on the area for a full two weeks. For starters, this will give them more time to explore the creatures that live there. But they also are hoping to understand why this place is such an undersea jungle. Does the volcano heat the area? Does it release chemicals that help sustain life?
We can't wait to see what they discover. Until then, though, enjoy some of the footage from the 2018 expedition, complete with excited scientist commentary!