Heavy rainfall over Wednesday has led to dramatic flooding in northeastern British Columbia. In some cases, well over 100 millimetres (about 4 inches) of rain fell in less than two days. Though the heaviest of the rain is now over, the damage is sadly done in towns like Dawson Creek and Chetwynd.
Dawson Creek, the stream that shares its name with the town, has receded a little now. But at its peak, the flooding swelled it to around 6 metres (20 feet) over its usual depth. In Dawson Creek, the town, the high waters have cut the city in two. Around 60 homes have been evacuated. Many homes and businesses are flooded, meaning that property and goods have been damaged. It is still far too early to say what the cost of this damage will be. But of far greater importance right now is the destruction of bridges and roads.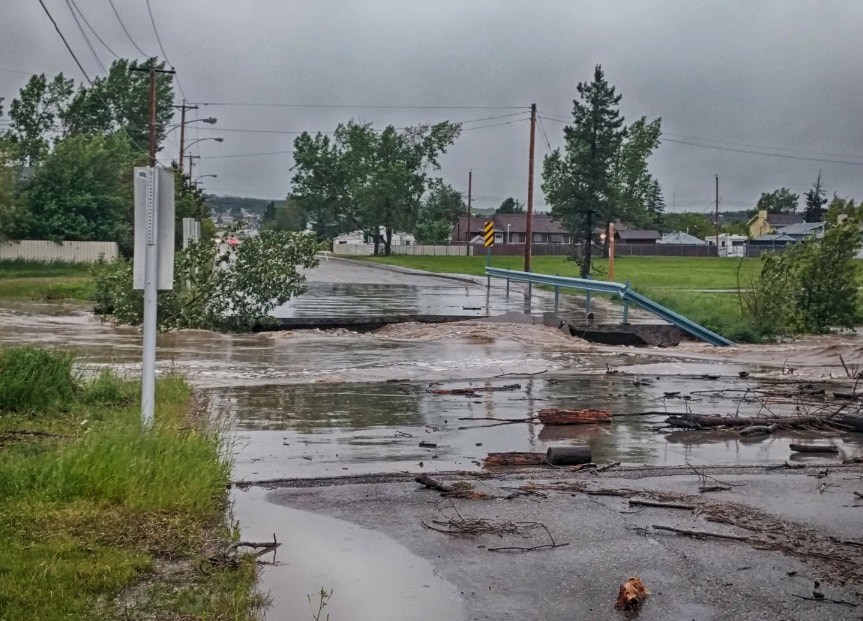 A road and bridge damaged by the rushing waters in Dawson Creek, B.C. (courtesy of Craig Hartel @NuclearMoose)
The only way in or out
Dawson Creek is home to about 11,000 people. Chetwynd less than 3,000. These are modest-sized towns found in a part of British Columbia that has relatively few major roads. In their case, the only way in and out of town is Highway 97, which is currently closed down due to flooding. Authorities are estimating that it could be up to two weeks before the road is safe again to travel. But because areas are still underwater, they can't predict how extensive the damage to the roads may be.
Pictures and video have emerged of huge sections of roads and even train tracks being completed washed away by the rampaging floods. This means that even once the waters disappear, costly repairs will be needed before traffic can get back to normal.
Great damage, but no injuries
Quick thinking, a good warning system, and supportive communities means that no one has died in the floods. One story has emerged of a local man, Mike Broadway, who came across three people trapped inside a white sedan on the edge of what was usually Eighth Street in Dawson Creek. Instead now, it was a river that washed across the road, turning into a raging waterfall where the sidewalk once was placed. At 4 a.m., the car was teetering on the edge of this waterfall. Broadway stopped his truck and began by saving the driver, 85 year-old Mary Daub. With the help of another local resident, he rescued Daub's daughter and son-in-law without any injuries.
In fact, no injuries have been reported at all in these communities. That's something very positive to remember. Though property and infrastructure (such as roads and bridges) have been damaged, the people are supporting each other and eager to rebuild. "We want to make sure that our community is safe and if there is an emergency that we can adequately and appropriately respond to it," said Dawson Creek Mayor Dale Bumstead. As heartbreaking as this flood has been, clearly these towns will live on to see brighter and better days.
This drone footage gives an eye-opening perspective on how Dawson Creek has been split in half by the flood. Hopefully, these waters will get back to normal soon!