A grouping of wildfires covering over 3,000 hectares (30 square kilometres) burned through the Alberta city of Fort McMurray all Tuesday. As of 6:30PM local time, the entire city of 60,000 people had been ordered to evacuate their homes and leave. It is the largest wildfire evacuation in Alberta history.
Largest fire-related evac ever in AB, +29,000 forced to leave. You can help: https://t.co/xa0TIyfAy8 #ABFire pic.twitter.com/ESmqYk6wNA

— Canadian Red Cross (@redcrosscanada) May 4, 2016
The fires are expected to continue burning through town Wednesday, and may even gain in strength and size. "The worst of the fire is not over," said Bernie Schmitte, manager of Alberta Agriculture and Forestry. Though some neighbourhoods have not yet been affected, others have seen many homes completely destroyed. In the neighbourhood of Beacon Hill, 80% of the homes have been lost.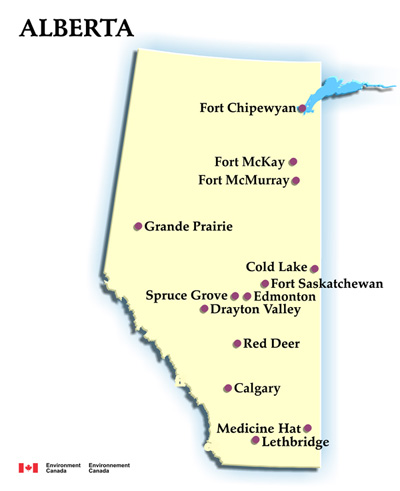 Fort McMurray is in the northern half of Alberta. Its main industry is oil production. (Courtesy of the Government of Canada)
Winds moved the fire away, then back
As of Monday afternoon, firefighters and officials were still hopeful that changing winds would carry the fires away from the city. Around 500 homes closest to the fire were evacuated as a precaution, but it looked as though things were relatively under control. By late Tuesday morning, however, the winds had changed direction again and the fires grew as they marched toward the city. Later that day, Mayor Melissa Blake had no choice but to evacuate the entire city.
Unusual heat
In general, wildfires are a natural part of heavily forested areas. They can even serve a purpose, clearing away tangled, dead wood to allow a new, healthier forest to grow. But these particular wildfires are being fed by an unusual heatwave. Temperatures in Fort McMurray have been around 30ºC for days (the average temperature even in July is only around 17ºC), and the weather is dry and windy. Under these conditions, fires both start easily and spread quickly, meaning firefighters have a terribly difficult task to put them out.
20,000 expected in Edmonton
Evacuees (the people who have fled the city) filled the highway out of town all day and evening. In many cases, they weren't even allowed to retrieve personal items or mementos, leaving with only the barest of necessities. People spoke of being able to feel the intense heat of the fire from in their cars as they drove down roads with flames on either side. These evacuees have been taking shelter nearby anywhere that they can. About 20,000 are expected to arrive in Edmonton, the nearest large city. Edmonton was helping to set up temporary shelters, as are other towns in the province near Fort McMurray.
Trudeau, Canada pledge help
Tonight I spoke with Premier Notley and offered our government's support to the people of Fort McMurray. We stand ready to help. #ymmfire

— Justin Trudeau (@JustinTrudeau) May 4, 2016

Prime Minister Justin Trudeau spoke with Alberta Premier Rachel Notley on Tuesday and says that the Canadian government is ready to help in any way possible. While this is good news, the fire continues to burn, leaving Fort McMurray Fire Chief Darby Allen and his crew with tough choices to make. Because the fire is too powerful for them to put out, they must instead choose vital areas of town to protect, since as the main bridge that crosses the Athabasca River.
"Everyone here has given everything today to do the very best they could," said Allen. "We'll continue to do the very best for you."
One small comfort is that even though so many homes have been lost or are under threat, the evacuations have been successful in avoiding injuries and deaths. None have yet been reported.