The pandemic gave some of us more free time at home. And some people got extremely creative with their time during lockdown, trying things they had never attempted before.
One of those people is 14-year-old Max Du of Calgary, Alberta. This Grade 9 student took his Christmas gift of a toy drone and turned into a prototype (test version) of an emergency bot.
After months of work, his life-saving drone went on to win a top prize for his age range at the 2022 Canada Wide Science Fair. Not bad for someone who had never before entered a science fair!
Let's look at how this invention came together.
Helping people in need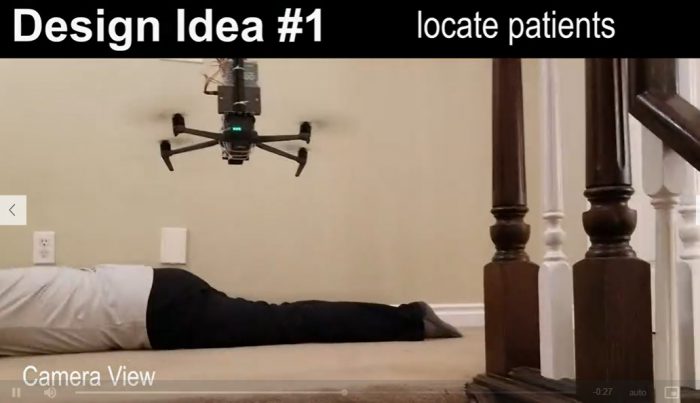 A patient can call the drone using a wireless device. (Screenshot of video by Max Du/Youth Science Canada)
It all started with the gift of a drone. In a recent interview with CBC, Max said that he was excited to get it, but at the time, the weather was  too cold to use it outside. So he had to fly the drone inside instead!
"(Flying it at home) got me thinking how a drone could be used as an indoor robot that could help people," he said in the interview.
Before long, Max settled on a situation where a drone could do more than just help. It could maybe even save lives. Like if a person is at home and has a heart attack. Someone having a heart attack needs immediate medical attention but sometimes they have to wait too long for an ambulance to arrive.
Could a self-flying drone help them?
Months of tests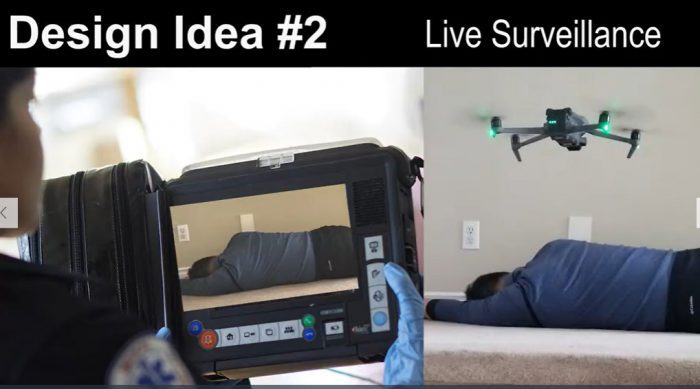 Medical professionals can keep an eye on the patient thanks to a camera in the drone. (Screenshot of video by Max Du/Youth Science Canada)
Max identified the features that his self-flying, life-saving drone would need to have.
It would need to be able to carry a device for injecting life-saving medicine into a person. Then it should be able to monitor a patient while that person waits for the paramedics to arrive. It would also need to be able to open closed doors. And it would need to be able fly smoothly while carrying all of these extra gadgets!
The process took months. Max borrowed household items like selfie sticks and dental floss to make the necessary gadgets. An extendable arm that could inject medicine into a patient, or the apparatus to open a door. And each time he added a new gadget, it would make the drone heavier and change its balance. So he would have to make even more adjustments so that it could successfully fly.
After many tweaks, repairs, and even attending seminars to learn more about robotics, he got it to work!
Bright future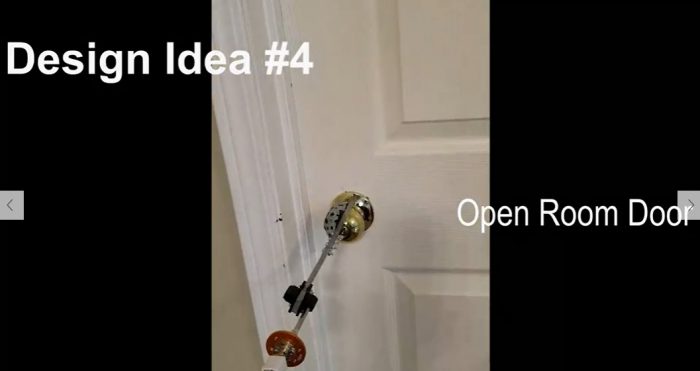 Open Sesame! Yep, the drone can even open a door by itself. (Screenshot of video by Max Du/Youth Science Canada)
When he debuted it at the Canada Wide Science Fair in May, it was a huge success. He took the platinum award at CWSF 2022 for his skills of innovation. And now, he is hopeful that his prototype can be made into an actual machine that people can have in their homes.
A life-saving drone that can respond to the emergency of a heart attack, even if no one else is in the home. Brilliant!
And along the way, Max learned so much! He says that building this drone taught him skills in "mechanical engineering, computer-aided design, electrical engineering, programming, Arduino (computer programming), machining, 3D printing, safety, and cardiac-related emergency medical knowledge." Wow!
Congratulations Max. We can't wait to see what you do next!