Today is Halloween, one of the funnest days of the year!
Now, we know that many places in Canada are not allowing a normal Halloween due to the pandemic. And we agree that this makes sense. Even if it is a bit of a bummer.
But hey, Halloween at home can be great, too! You can still carve pumpkins. Get dressed up in the wackiest, wildest, most creative costumes imaginable. And we're pretty sure that you might be able to get some candy as well!
However, it's true that a big part of the fun is sharing your costume with others in your neighbourhood. In which case, we have an event that might help.
Halloween Zoom Party!
Canadian children's entertainer Chris McKhool is a well-known musician from Mississauga, Ontario. As a member of the Sultans of String, he's been nominated for three JUNO awards, too. And he's put together an event on Zoom that features a costume contest, dancing and music, and even prizes. It's called McKhool & the Gang's Halloween Zoom Party!
It is happening at 6:00pm EST today (Saturday, October 31). The event is FREE, but you do need to reserve tickets ahead of time to ensure that the Zoom is properly moderated. You can do so right here.
"I love Halloween," says McKhool, "and I wanted to do something nice for all the families struggling with what to do with their kids. I wanted to find a fun and safe way for me, my wife, and 9 year old daughter to celebrate Halloween with her friends and neighbours. We are extending the invitation across the country for families to join with us!"
Sounds like fun!
And there's also a free Owlkids Halloween activity book!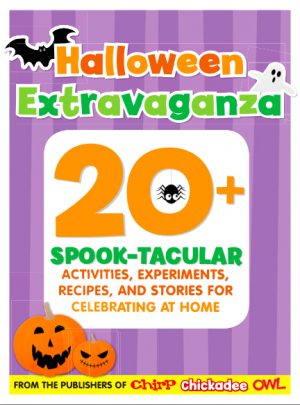 All of us at Owlkids have put together an online activity book that is free to download right here!
The book is jam packed with recipes, activities, experiments, and stories that will make today a Halloween you'll never forget. There are activities for a variety of ages so you'll find something for everyone.
Have a great Halloween, everyone!