Every December, American media company Bloomberg does a couple of things to wrap up the year. One is The Bloomberg 50, a list of the most influential people of the past 12 months. This year's list included governors, CEOs, journalists, and entertainers...and one crown prince from Saudi Arabia. Whoa.
They also release a Ones To Watch list — call it a prediction of who might be on the next Bloomberg 50. As you'd expect, their Ones To Watch 2018 was a similar mix of big names in government, business, journalism, and entertainment...and one 14 year-old girl from Toronto. Who?
If you don't already know her, allow us to introduce you to Hannah Alper.
Here's your change, have a great day!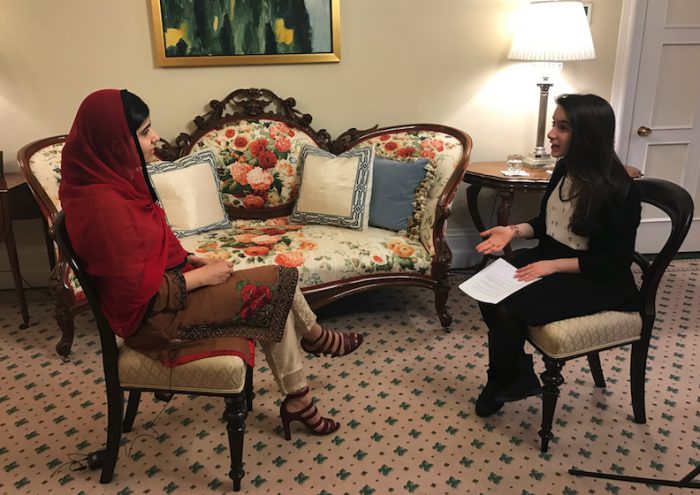 Hannah interviews Pakistani activist Malala Yousafzai earlier this year. (Courtesy of Eric Alper)
Hannah Alper is not your average young teen. At 14, she's already got years of experience as an environmental and social activist, public speaker, and blogger. Plus, she is a published author. (A collection of 19 interviews and personal reflections, Momentus: Small Acts, Big Change, came out this year.)
And yet, she's made her mark by insisting that her achievements are within everyone's grasp. It's this positive message that caught the eye of We Day founders, Craig and Marc Kielburger, years ago. Same goes for YouTube star Lilly Singh — she was on The Bloomberg 50 and nominated Hannah for the Ones To Watch list. (She caught our eye, too!)
Hannah flew to a gala party last week to celebrate with others on the list. Amazing!
Night done well! What a night it was at the #Bloomberg50 gala. What an honour it was representing my generation as the youngest honouree. Proves that we are not the leaders of tomorrow, but the leaders of TODAY. Thank you @business especially @iisuperwomanii for nominating me. pic.twitter.com/ZcpKLT13uS

— Hannah Alper (@ThatHannahAlper) December 6, 2017
Issue + gift = change
Of course, Hannah took it all with a healthy dose of modesty. She clearly understands the difference between using attention as a platform for activism and just letting it all go to her head. In her book, she speaks early on about the concept of "issue + gift = change" as a key to anyone getting involved in activism.
In her mind, we all have an issue that we feel passionately about. And we all have a gift, something that we do well. When you combine the two, a change in the world happens, however small. And it's for the better.
We would be inclined to say that Hannah Alper has more than one issue — and more than one gift — that she is passionate about. But her life already is proof that her formula works.
Watch Hannah make her argument for change in this interview.