Last month, the internet was turned upside down for a few days because of the birth of an animal. Not just any animal, of course. This was a young giraffe, those loveably long-legged African mammals. And it was all going to be broadcast live across the web.
The mother's name was April, and, lo and behold, on April 15, 2017, she gave birth to a beautiful male giraffe calf. The newest resident of Animal Adventure Park (AAP) in Harpursville, New York, became an instant celebrity, with his birth watched by 1.2 million people. How could he not? He was so adorable, knobby-kneed, and ready to receive the nuzzles of his proud mama.
But despite his fame, for the past two weeks he was still just "the internet giraffe baby." That's because the folks at AAP were holding a naming contest with the public. After 17 days of submissions and voting on names such as Apollo, Geoffrey, Gio, Harpur, Noah, Ollie, Patch, Patches, and Unity, the winning name was finally chosen. Except it wasn't a name at first.
It was "Alyssa's Choice."
It's Alyssa's Choice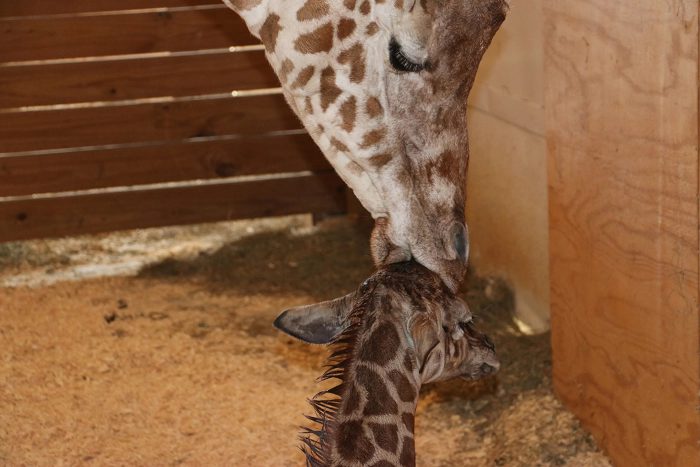 Mommy keeps her little guy fresh, clean, and ready for a new day. (Animal Adventure Park)
"Alyssa" refers to Alyssa Swilley, the lead zookeeper at AAP. By selecting "Alyssa's Choice," the voters were saying that she deserved the right to choose the name for the young calf. What a wonderful idea, right? After all, she is going to be almost like an aunt to the little guy. (Okay, given that he was almost 2 m (5 ft. 9 in.) tall and 58.5 kg (129 lbs.) at birth, he's not exactly "little." But you get the point...)
After consulting with her partner, giraffe keeper Corey Dwyer, Alyssa selected Tajiri. They'll call him Taj, for short!
Tajiri (say tah-JEER-ee) is a word in the African language of Swahili. It means "hope" or "confidence." Alyssa says that it reflects their hope and feeling "confident that we will move into a future where we have giraffes." Currently, giraffes are listed as species that is "vulnerable" to extinction. That makes breeding programs like the one at AAP (and the awareness they create) very important to the species.
A giraffe is tended to by a keeper at a conservation centre in Nairobi, Kenya. Places like this one have been started to protect the future of this loved symbol of Africa. (Getty Embed)
Take a peek
The original live webcam link showing Tajiri and April has been taken down, but a new yard cam will be set up on May 13. This is also when AAP opens to the public for a new season. You can bet that little Taj will be the centre of attention right away. If you get a chance to pay a visit, please say "hello" for us!
In the mean time, why not check out some highlights from past live cams here? Enjoy!