Food is something that we need to live. But it is more than just that. It can be a gift to others. Whether you're treating a friend to a slice of pizza, or inviting people over for a home-cooked meal, everyone appreciates being given food, right?
That's what makes this story so heartwarming...and tummy-warming, too!
Marché Ferdous is a tiny Middle Eastern restaurant in downtown Montreal. They specialize in dishes with roasted chicken, falafel, rice, vegetables, and lots of delicious spices and herbs. And if you can't pay for a meal? That's okay, it's on the house. Yep, you can eat for free.
Giving back to Canada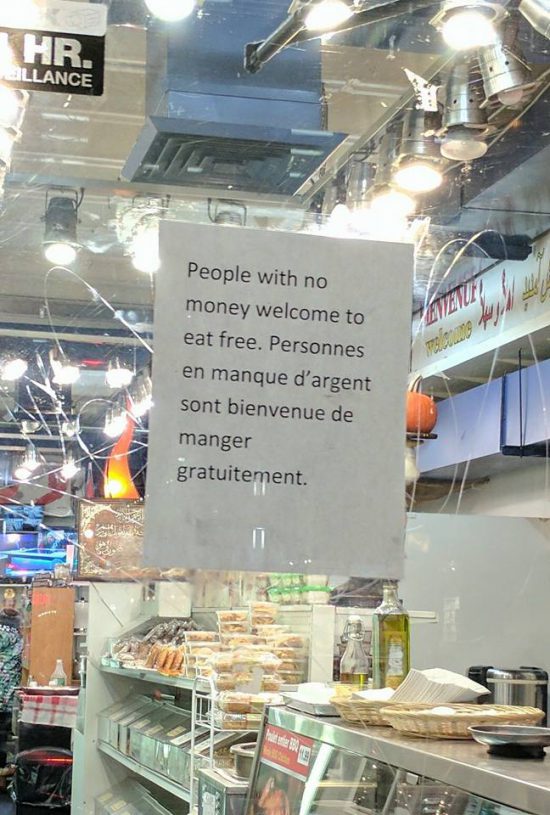 The sign on the front door of Marché Ferdous offering free food. (Facebook/Marché Ferdous)
The restaurant's owners know that in the part of Montreal where they are, there are many people who are either homeless or have very little money. They want to make sure that these people don't go hungry.
"We don't think about how much it will cost us," Yahya Hashemi, one of the restaurant's co-owners, told CBC. He is originally from Iran; his business partner, Ala Amiry, came from Iraq. They are so grateful to be living in Canada that they saw this as a way that they could give back to the country. Giving away food to the needy also fits with the teachings of their religion, Islam.
So about five months ago, they put up a simple sign in English and French that reads:
People with no money welcome to eat free. Personnes en manque d'argent sont bienvenue de manger gratuitement.
A post spreads the word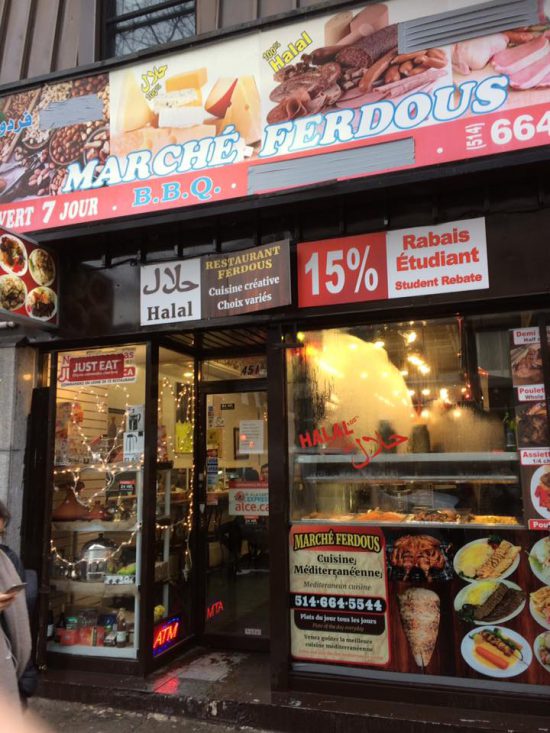 The restaurant itself. (Facebook/Marché Ferdous)
Sound a bit...unbelievable? A man named Sean Jalbert thought so, too. He could afford the meal, but wanted to know if it was really true. Sure enough, all he had to do was say that he couldn't afford to pay for his meal. Immediately, he was happily served a delicious meal. Jalbert was so humbled that he not only paid for the meal, but he praised the owners in a post on Facebook.
Now that post has gone viral, and Marché Ferdous is becoming locally famous as the kindest, most generous restaurant in the city. Are they worried about people taking advantage of this generosity?
Customers donating to help
Right now, Hashemi says that they give away about four to five meals a day. The costs of giving away that much food can definitely add up over time, but the people of Montreal are coming to the rescue! Turns out, the restaurant often receives donations from paying customers of $20 to $50 saying that the next "four or five people are on me."
All in all, it's a great example of how acts of charity can really bring a community together. Bravo, Marché Ferdous!