Hurricanes in the late summer and early fall may be a fact of life in the Caribbean and on the Atlantic coast, but few people alive can remember a season like this one.
In August, Hurricane Harvey marched into a surprised southern Texas, flooding America's fourth largest city, Houston.
Then in early September, Hurricane Irma—one of the most powerful Atlantic storms ever recorded—spent a whole week bringing devastation to several Caribbean islands before hammering Florida.
Cleaning up after Hurricane Irma in St. Martin. (Getty Embed)
When Hurricanes Jose and Katia recently headed into the open ocean and weakened to a minor tropical storm, many hoped that the worst was over. After all, the effort to clean up from these storms is massive and will take months—even years in some cases.
But for much of the Caribbean, Hurricane Maria has put the repairs on hold as citizens brace themselves once again for powerful winds, high rainfall, and flooding waves.
Irma's twin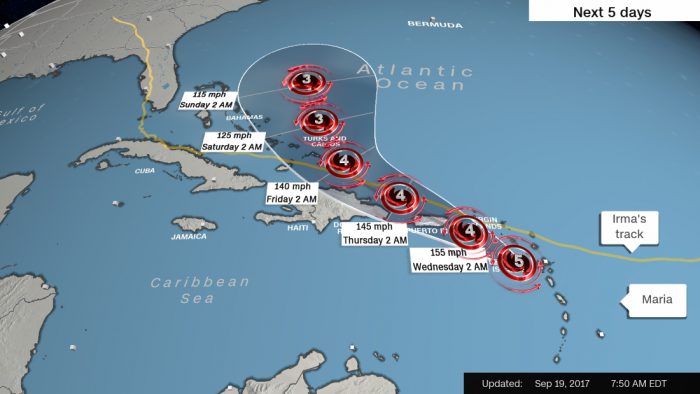 These are estimates of Maria's path and strength over the next few days. The yellow line shows where Irma traveled earlier this month. (CNN/National Hurricane Center)
Maria may not be quite as ferocious as the record-breaking Irma, but it is still a monstrous hurricane. Experts at the National Hurricane Center believe that it will stay somewhere between a Category 4 and Category 5 storm for the next four days. Its path is also similar to Irma's. Some places, such as the U.S. and British Virgin Islands, run the risk of being hit by two of the biggest storms of the last 50 years within the space of two weeks.
One of the first victims of Maria was the island of Dominica, which was hit overnight. The storm crippled the entire island of 73,000 people. Even Dominican Prime Minister Roosevelt Skerrit reported that the entire roof of his home was removed by the storm.
People board up windows and doors in Puerto Rico to prepare for Hurricane Maria's arrival early Wednesday. (Getty Embed)
Meanwhile, islands like Puerto Rico, which managed to miss most of Irma's power, are likely to be hit hard by Maria. Only last week, everyday Puerto Ricans were paying back their good fortune by bringing aid to people on neighbouring islands that Irma devastated. Now they will likely be the ones in need of assistance.
Another surprise
Like Harvey, Hurricane Maria grew in strength quickly and somewhat unexpectedly. In around 30 hours, it went from being a tropical storm to a Category 5 hurricane, the highest storm rating. Its winds have topped out at around 265 km/h (165 mph).
Eventually, the weather conditions that fuel hurricanes in this part of the world will disappear, as they do every fall. But there is no question that the job of rebuilding the Caribbean and American coastline will be bigger than usual.