Every two weeks, we publish a new issue of our tablet and computer-compatable OWLconnected eMag—a free exclusive to anyone with an OWL Magazine subscription!
Today, Issue 109 of the eMag hits the virtual newsstand, and we're feeling mighty fine about it! Let's fly through a preview of it together right now.
Skygazers and star-chasers!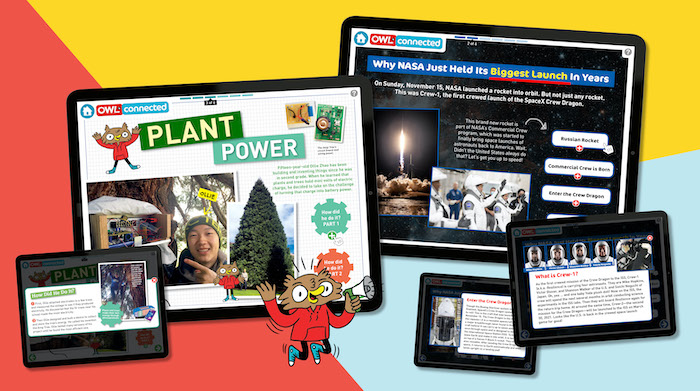 Let Ollie Zhao shows you how to get power from plants in Issue 109.
November may be chilly, but it's also a great time for stargazers. In this issue, we talk about the Leonids, an annual meteor shower that is always among the best of the year.
Then we go beyond our world and take a look at the recent launch of Crew-1, the first voyage of the SpaceX/NASA Crew Dragon vehicle. You may not realize it, but this mission is set to change how NASA works for decades to come. Let us explain how!
This issue will also introduce you to Ollie Zhao, a teen inventor who is making batteries from trees! We've got a video on how to make your own putty, too. And any basketball fans in the house? Then you'll love this issue's quiz, all about one of North America's most popular sports.
If you're already a subscriber, you can click here to sign in to the eMag right now.
If not, take your OWL experience to new heights! Get ten print issues a year sent right to your door, plus over 24 issues of the exclusive eMag, by subscribing right here.