Every two weeks, we publish a new issue of our tablet and computer-friendly eMag, OWLconnected. It's free  for OWL Magazine subscribers!
Today, Issue 112 of the eMag arrives, and if you love new gadgets, this is one that you will not want to miss! That's because we take a look at some of the coolest stuff on display at this year's CES, or Consumer Electronics Show.
Give us the gadgets!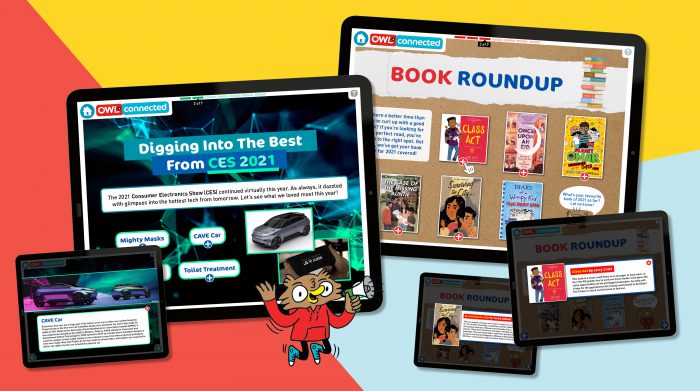 CES is a huge annual, or yearly, event that takes place in January in Las Vegas. Though COVID restrictions kept things virtual this year, the show went on and it was mind-blowing as always. We highlighted our favourites (because we're fun that way!) and are excited to pass them on to you. We're talking about masks that amplify your voices, an all-electric car designed exclusively in Canada, and TV screens that actually roll. And to top it all off, how about a toilet that analyzing your waste to check how healthy you are?
Then we go from the ultra new to the reliably classic: the book! There are some really great books coming out this year and we have the cream of the crop for you right here. Mystery, humour, true life adventures ... we know you'll love this list. And did we mention that issue 112 also has a quiz (on cheese, yum!), video content, and still more? Because it does!
If you're already a subscriber, you can click here to sign in to the eMag right now.
If not, maybe it's time to take your OWL experience to new heights! Get ten print issues a year sent right to your door, plus over 24 issues of our exclusive eMag, by subscribing right here.