Every two weeks we publish a new issue of our tablet and computer-friendly eMag, OWLconnected. It's free for OWL magazine subscribers. Our eMag is usually packed with fun (and even silly!) stuff. But sometimes, we like to talk about more serious topics—ones that affect all of us, including you and your classmates.
That's why for Issue 127—which is out today—we're looking at some recent conflicts that have happened in the world and thinking about how they touch our lives. We're also discussing how something like an animated series can help us come together as a community and understand each other's experiences.
The beauty of Dounia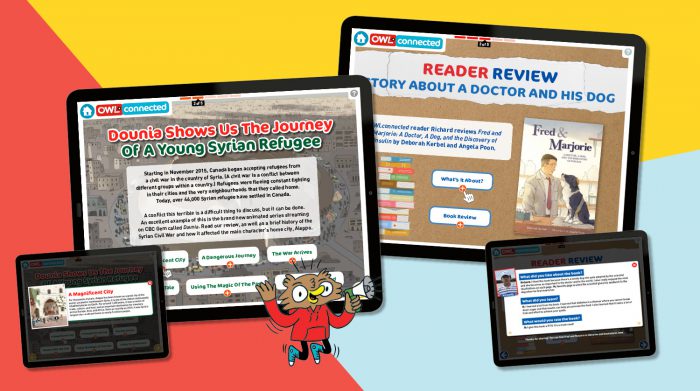 Afghanistan has been on the minds of many of us these days. With the recent withdrawal of American forces and the return of the Taliban to power, countries like Canada have been working to accept thousands of Afghan refugees. A refugee is someone who leaves their home to escape conflict or oppression in search of a better life somewhere else.
Every refugee's experience is their own, but there are similarities between them. That's why we think it's the perfect time to watch a new animated series called Dounia. This program looks at the recent Syrian Civil War through the eyes of a young girl. Since 2015, Canada has welcomed around 45,000 Syrian refugees. Watching Dounia reminds us all of why they fled and importance of learning each other's stories to make an equitable society.
These are big topics, but Issue 127 isn't only about these issues. We also review a new book called Fred and Majorie. It's about a Canadian doctor—Dr. Frederick Banting—and his dog, and how the pair worked together to create one of the 20th century's most important breakthroughs: Insulin! This medication has saved the lives of millions of people with diabetes. Not bad work for a guy and his pup!
If you're already an OWL magazine subscriber, you can click here to sign in to the latest eMag right now.
If not, maybe it's time to take your OWL experience to a whole new level! Get ten print issues a year sent right to your door, plus over 24 issues of our exclusive eMag by subscribing right here.