Every two weeks we publish a new issue of our tablet and computer-friendly eMag, OWLconnected. It's free for OWL magazine subscribers. Issue 128 is out today, and it's a very topical one.
That's because this upcoming October 18–24 is Waste Reduction Week. This is a time when Canadians are asked to reflect on their habits and how they can reduce the waste they create before it ever reaches a trash can, recycling, or compost bin.
It's all about what we buy. How we eat. And especially how we do business.
Going in circles (but in a good way!)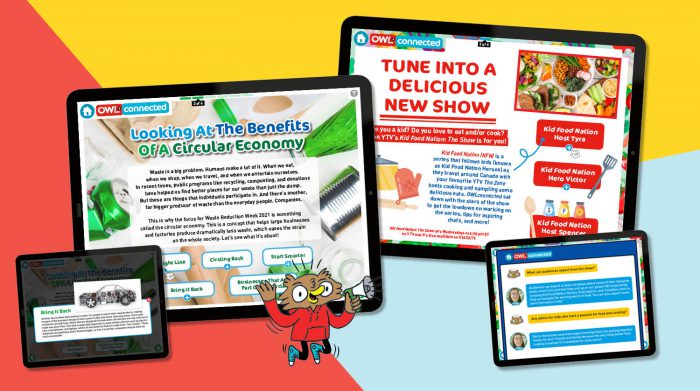 That's because one of the biggest producers of waste in the world are businesses. Sadly, much of the product that companies create is destined to hit the trash heap at some point. Recycling programs help, but to really turn things around, we need to change how products—and companies—are designed from the start. An idea that tackles this is a new concept known as a circular economy. What does that mean exactly? Read Issue 128 to find out!
(You can also check out this post about a new plastic recycling concept that is exactly what a circular economy is all about!)
Another big waste producer is the food industry. There are a bunch of reasons for this, but one very simple—and delicious—way that we can cut down on this waste at home is by getting in touch with our inner-cook. No fooling! It's a fact that the more we cook, the less reliant we are on pre-packaged foods. And the more likely we are to use every last morsel in our fridge and pantry. To help inspire you, we're interviewing three stars from the brand new YTV show, Kid Food Nation. Who's hungry for some change? We thought so!
And of course, that's not all. We've got an experiment video, a rad comic puzzle, and input from you, our awesome readers.
If you're already an OWL magazine subscriber, you can click here to sign in to this latest eMag right now.
If not, maybe it's time to take your OWL experience to a whole new level! Get ten print issues a year sent right to your door, plus over 24 issues of our exclusive eMag by subscribing right here.