May 6 to 21 is Science Odyssey, a celebration of all things science! OWLconnected is recognizing this two-week event with lots of science content, as well as with an amazing contest, presented by our friends at the Natural Sciences and Engineering Research Council of Canada (NSERC). Details are at the end of this post—be sure to enter!
Every two weeks, we publish a new issue of our tablet and computer-friendly eMag, OWLconnected. It's free for OWL magazine subscribers.
Today, we release Issue 165—a continuation of our celebration of Science Odyssey! For the last two weeks, we've been encouraging you all to conduct your own experiments and enter this amazing contest. But we know that sometimes we all need a friendly reminder here and there. Not to mention a little extra guidance!
So in this issue, we're sharing a super fun experiment that you can try at home.
Science and fantasy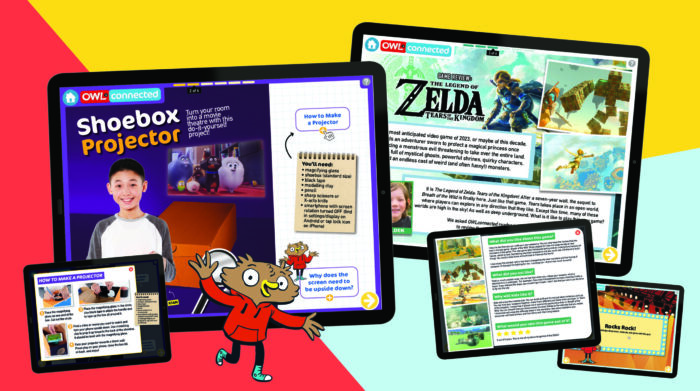 Does you like movies? Because with a few simple household items—plus a phone or tablet—we're showing you how to build a shoebox projector. And this project will do more than just give you a cool way to entertain your friends and family. It will also teach you about how light bends when being projected through a lens. Neat!
(And speaking of which, the issue also has a video all about another gadget with a light-bending lens: the camera!)
Elsewhere in 165, we're stepping  into the world of fantasy. We have a reader review of the hottest video game right now, The Legend of Zelda: Tears of the Kingdom. Is this video game all hype? Or does it live up to the standards set by one of the most beloved games ever, Breath of the Wild? Our reviewer will tell all!
Add on a super fun quiz and lots more reader feedback in our Buzz section, and you've got a really fun issue!
If you're already an OWL magazine subscriber, you can click here to sign in to the latest eMag issue right now.
If not, maybe it's time to take your OWL experience to a whole new level! Get 10 print issues a year sent right to your door, plus over 24 issues of our exclusive eMag by subscribing here.
Contest alert
Don't forget to enter the Science Odyssey Contest! CLICK HERE TO ENTER.