Whether you call them jellyfish or jellies, there's no doubt that they are one of the most bizarre, beguiling, and oddly frightening creatures in the sea. Whether its the glowing other worldliness of a school of moon jellies ...
(Getty Embed)
... or the alien spaceship awe of a Portuguese Man of War ...
(Getty Embed)
... these creatures are totally one-of-a-kind.
Of course, we don't always get a chance to see one up close. (Not to mention that since many of these creatures sting, it's a good idea to keep one's distance!) Every once in a while though, a jellyfish will wash up onto shore. That's exactly what New Zealand's Eve Dickinson and her family experienced recently. And when they came across a lion's mane jellyfish on the beach during a walk, they took advantage of the chance to gawk.
Ooey, gooey jellyfish
In the Northern Hemisphere, a lion's mane jellyfish grows to be the biggest jelly in the world. (Getty Embed)
The lion's mane jellyfish is the largest known species of jellyfish. Their heads, or bells, are capable of growing larger than 2 m (6 ft 7 in) wide, while their tentacles can stretch over 30 m (100 ft)! That is one massive creature.
In the Southern Hemisphere (a.k.a. where New Zealand is), these animals are a lot smaller—with bells around half a metre (20 in) wide. But they're still impressive, eye-catching specimens. As this photo proves!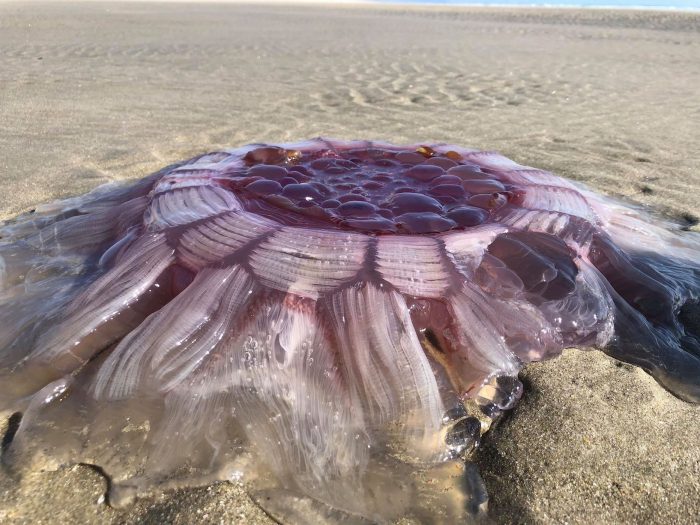 Can you imagine being made of the same kind of stuff as a jellyfish? Weird, right? (Eve Dickinson)
Thanks for the photos
Of course, even in this state, it's not wise to actually touch a jellyfish. Lion's mane jellyfish stings aren't deadly, but they sure can hurt. It's what they use to stun and overwhelm their prey, such as other jellies and small fish.
In other words, this is a sight best viewed from a slight distance. All of which makes us really grateful to the Dickinsons for passing on such awesome photos!
Have you and your family encountered any unusual wildlife during a walk? We'd love to hear about it below!