If you've paying any attention to news about melting sea ice, there has been one place that has stood out.
The Larsen C ice shelf in Antarctica.
For months, scientists have been buzzing about how a state-sized iceberg was close to breaking off the continent. (We also did an article on it in Issue 14 of our OWLconnected eMag.) Now reports have come in that the break has finally happened.
Somewhere between July 10 and 12, a 5,800-sq km (2,240 sq. mi.), one trillion-tonne iceberg broke away from Antarctica and drifted into the open ocean. The iceberg is larger than Prince Edward Island and has almost the same amount of water in it as Lake Ontario.
Gained speed in the last twelve months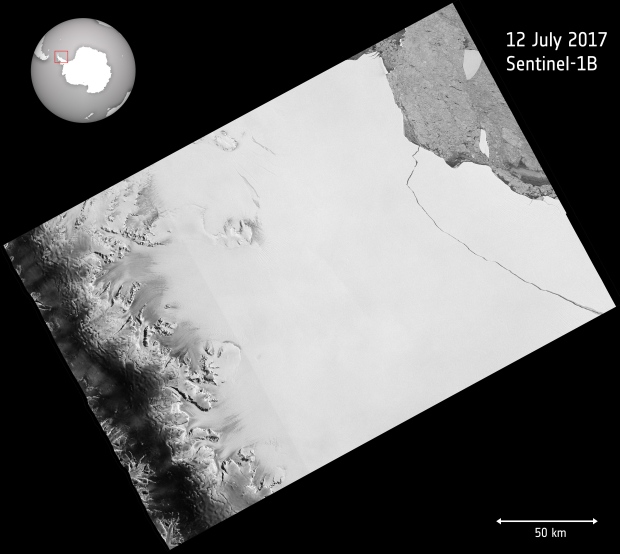 A satellite image from July 12 shows that the rift has finally gone all the way across the ice shelf. (European Space Agency)
An ice shelf is a very large, very thick mass of ice floating in the water, but attached to a landmass. It is usually an extension of a glacier or ice sheet as it grows off the land. When chunks break off an ice shelf, they form icebergs.
The Larsen C ice shelf is found along the edge of an antler-like peninsula on Antarctica. The rift that created this new iceberg actually goes back to before 2010. But after slowly growing by a few kilometres here and there for five or six years, it suddenly grew very fast over the last 14 months. Since around May 2016, it marched about 100 kilometres (62 miles) to separate the ice from the rest of Larsen C. The iceberg, likely to be known as A68, is 12% of the total area of the ice shelf itself.
This time lapse video shows how quickly it spread.
The Larsen-C rift opening over the last 2 years from #Sentinel1 pic.twitter.com/MT9d3HAw1M

— Adrian Luckman (@adrian_luckman) January 31, 2017
Is this climate change?
While the scientific community agrees that climate change is happening, most who study the ice shelf were hesitant to say that this is why A68 broke off of Larsen C.
Large icebergs naturally break off Antarctica all the time. And according to a lead investigator of the ice shelf, Professor Adrian Luckman from Swansea University, time will tell whether or not the ice shelf will regrow or if it will break further. For now, Luckman thinks that the ice shelf is going to be quite stable for some time.
And because the ice shelf was already floating in the water before it broke off, this massive iceberg is not likely to cause much of a rise in sea levels. But Luckman also noted to both the CBC and The Guardian that scientific opinion on the future of the Larsen C is "divided."
In 1995 and 2002 respectively, the Larsen A and B ice shelves collapsed completely into the ocean, which raised sea levels. If all of Larsen C goes, scientists agree that that will have a very noticeable effect on the world's water levels.