We love lots of things here at OWLconnected (we're well-rounded people, what can we say?), but animal rehab stories are definitely near the top of the list! What's better than hearing tales of people saving the lives of injured animals and releasing them back into the wild? Adorable. Inspiring. A little tear-jerking.
Bring it on!
We fell instantly in love with the story of Miss Simpson. She is a Snares penguin that was found underweight and injured on a beach in Tasmania, an island state of Australia. A dog attack left a large bald patch on her back. Even worse, Miss Simpson was 2,000 km (1,200 mi.) from her home—a tiny group of islands just south of New Zealand called the Snares Islands. This poor seabird would have died if not cared for.
Instead, she was rescued and sent to Lesley Kurek, an expert in seabird rehabilitation.
Slowly nursed back to health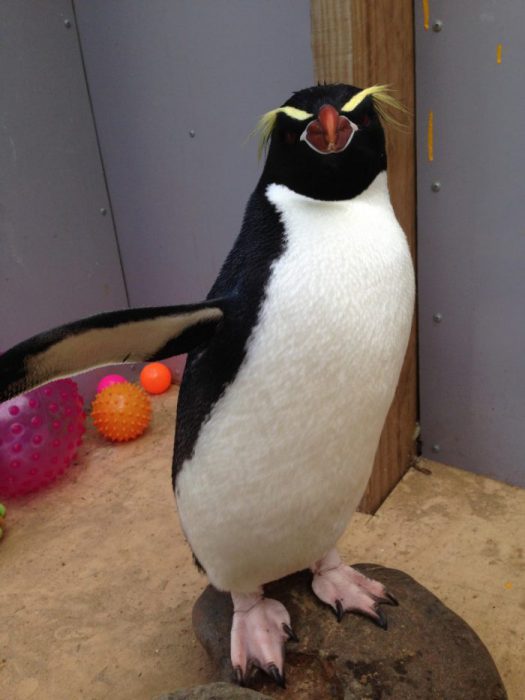 Miss Simpson at the Bonorong Wildlife Sanctuary. (Courtesy of Bonorong Wildlife Sanctuary)
At first, Lesley thought the path to getting the penguin back on track was clear. She and her husband Richard cared for the bird's wounds. They fed her fish and slowly gained her trust. But the bald patch on her back just wouldn't heal properly. If the feathers didn't grow back there, Miss Simpson would lose her waterproof protection and not be able to survive in the wild.
Lesley realized she needed more help and contacted the nearby Bonorong Wildlife Sanctuary. The staff at Bonorong have a lot of experience caring for wounded and orphaned animals. But even for them, Miss Simpson presented a unique challenge. They consulted a variety of experts before settling on a solution: letting her moult.
New feathers, new life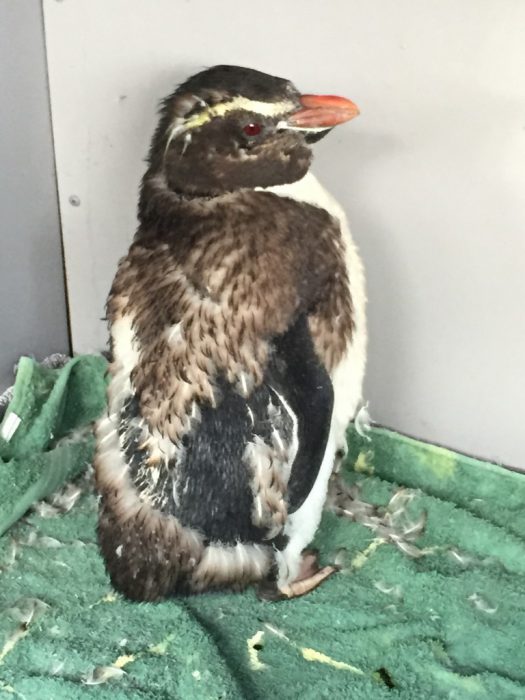 Miss Simpson in the middle of her moult. So fluffy! (Courtesy of Bonorong Wildlife Sanctuary)
Moulting is a process that birds go through where their old feathers are replaced by new ones. You can often recognize it when a bird appears a little scruffier and puffier than usual. It is a long process. Birds can't afford to lose all their feathers at once, after all. But in Miss Simpson's case, it felt like waiting for the moult was the best hope for a recovery.
So the team waited seven months, keeping her fed and healthy, until she finally went into moulting period. Sure enough, the bald patch finally filled in with a fluffy, healthy bunch of new feathers!
After a full nine months in the care of people, Miss Simpson was released on a Tasmanian beach, left to make the journey back to her home on the Snares Islands. Watch her saying goodbye in the video below.