Live webcasts are amazing things. They let us watch baby eagles hatch, or peek in on the life of a wobbly giraffe calf.
And tomorrow, Thursday, August 17, they give us the chance to take a spacewalk with real astronauts aboard the International Space Station (ISS). That's because NASA will be broadcasting the event live over the internet.
The spacewalk is schedule to last for about six hours, with the broadcast beginning at 10:00am EST, and the actual walk at 10:45am.
Mighty minis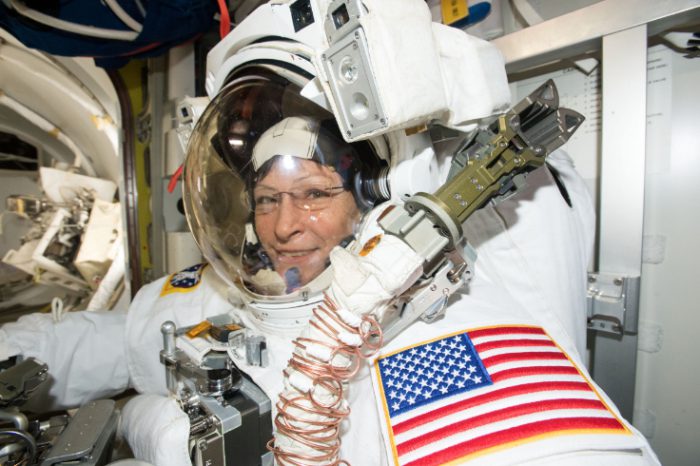 Astronaut Peggy Whitson getting ready for a spacewalk earlier this year. (NASA)
The astronauts' mission is to place five nanosatellites (or mini-satellites) into low Earth orbit or LEO. LEO is the closest orbit range for satellites. It is anything under 2,000 km (1,200 mi.) from the Earth's surface, and the ISS operates in this range.
The satellites only weigh about 5 kg (11 lbs.)—a bit heavier than an adult cat—but they carry important meaning. They are being released to commemorate the 60th anniversary of Sputnik, the first satellite put into space by humans. Sputnik was launched by the Soviet Union (Russia today) in 1957. The two astronauts performing this spacewalk are Russian: Commander Fyodor Yurchikhin and Flight Engineer Sergey Ryazanskly.
Expedition 52, reporting for duty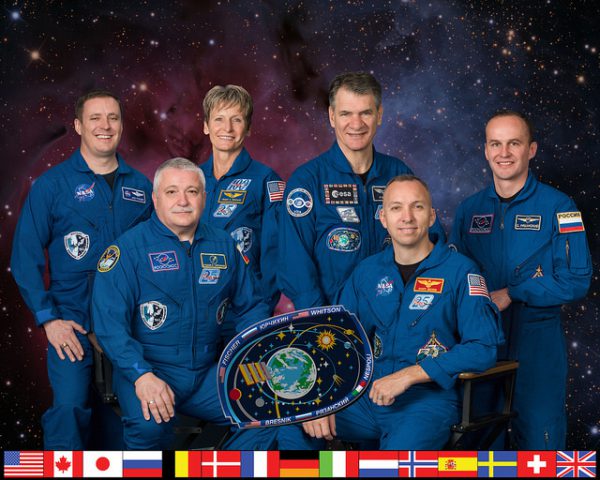 Get to know the crew. (L to R) Astronauts Fischer, Yurchikhin, Whitson, Nespoli, Bresnik, and Ryazanskly. (NASA)
Each crew on the ISS is known as an "expedition." This crew is Expedition 52, and its time in space is lasting from July to early September. The members of 52 are Commander Yurchikhin, and Flight Engineers Ryazanskly, Jack Fischer (USA), Peggy Whitson (USA), Randolph Bresnik (USA), and Paolo Nespoli (Italy).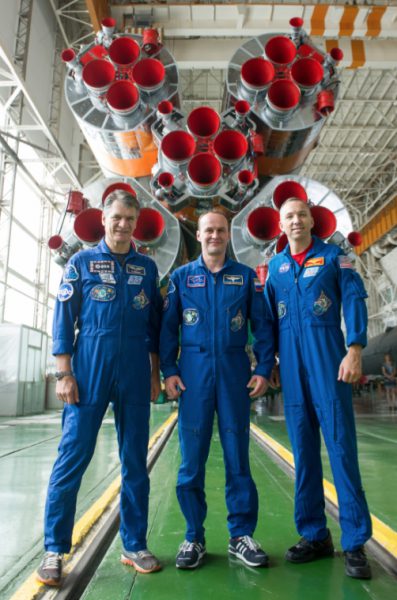 Astronauts Nespoli, Ryazanskly, and Bresnik pose for a picture in front of the Russian Soyuz rocket that took them to the ISS in July. They will stay on the ISS until Expedition 53 ends in December. (NASA)
Each astronaut serves on two expeditions. Yurchikhin, Fischer, and Whitson were also part of Expedition 51. And while those three will leave in September, Ryazanskly, Bresnik, and Nespoli will stay on board for 53, when they will be joined by three new crew members.
This method makes sure that half of crew is already used to life on the ISS and that the station is always occupied. It helps make sure that everything runs smoothly!
See you out there!
It would be easy to forget about the ISS without technology such as these webcams. But thanks to this, we are able to share in their miraculous activities. (As well as those of small, adorable Japanese robot cameras.) Early this year, Peggy Whitson set a record for female spacewalkers and NASA shared helmet cam footage of it for all of us to enjoy. And while no records will be set tomorrow, this will be the only spacewalk done by Expedition 52, so be sure not to miss it!
To watch this spacewalk (and another webcast events) for yourself, follow NASA Live here.