For more than a month, Indigenous fishers have been under attack by groups of commercial fishers in Nova Scotia over lobster fishing rights. As the violence has increased to include physical attacks, destruction of property, and arson (setting fires), these dangerous events have caught the attention of the entire country and beyond.
The roots of this conflict go back decades, even centuries, to the relationship between Indigenous peoples and the settlers who came to form what is today Canada and its government. And it highlights issues of systemic racism, of the federal government not honouring treaties with Indigenous people, and Indigenous peoples right to self-governance (being able to make decisions without outside influence or intervention).
Who is involved?
The Indigenous lobster fishers in this case are from the Sipekne'katik First Nation in central Nova Scotia. Sipekne'katik First Nation belongs to the wider Mi'kmaq nation, known as Mi'kma'ki. They live throughout Atlantic Canada, as well as parts of Quebec and the northeastern United States.
The commercial fishers involved in these attacks are non-Indigenous fishers from across Nova Scotia.
Both of these groups catch lobster to be sold as food and rely on this trade to survive and provide for their families. But the commerical fishers catch lobster on a much larger scale.
Overall, Canada is the world's largest lobster producer, with Nova Scotia being a key part of an industry that makes billions of dollars a year.
Why are these attacks happening?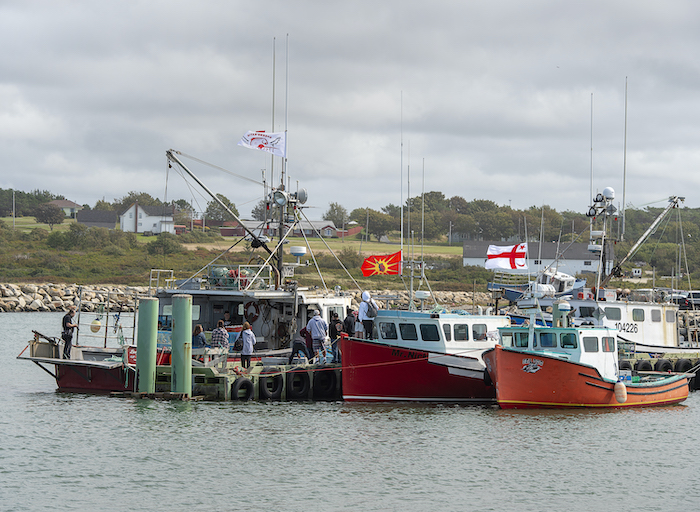 Members of the Sipekne'katik First Nation prepare to go fishing in Saulnierville, Nova Scotia. (THE CANADIAN PRESS/Andrew Vaughan)
Things began in September, when the Sipekne'katik opened a new small lobster fishery. This is an operation meant to be a hub for Indigenous fishers. But the fact that the fishery operated outside of 'lobster season' angered commercial fishers.
Commercial fisheries are only permitted to catch lobster between November 30 and May 31. This is known as the federal lobster season. These restrictions protect the animals from overfishing.
But Indigenous fishers are allowed to catch lobster all year. According to a 1752 treaty, they may hunt and fish enough to earn a "moderate livelihood" at any time. This right was later backed up by a Supreme Court of Canada ruling in 1999.
Within treaty rights
Even with this ruling, however, many people—both Indigenous and non-Indigenous—feel that the phrase "moderate livelihood" is vague and unclear. Sipekne'katik First Nation Chief Michael Sack has expressed frustration with it and said that "the average Nova Scotia income should be at least the starting point" for this unknown amount. Nova Scotia Premier Stephen McNeil has also said that the federal government needs to define what a "moderate livelihood" is under the treaty.
But according to the Supreme Court decision, the Mi'kmaq lobster fishery is within treaty rights. The operation is ultimately a very small one—the chart below compares the number of lobster traps being used by the Mi'kmaq versus those used by the commercial fisheries.
View this post on Instagram
But the commercial fishers still claimed that their livelihoods—and the health of the lobster population—were being endangered by this new Sipekne'katik fishery operating outside the season.
What has happened?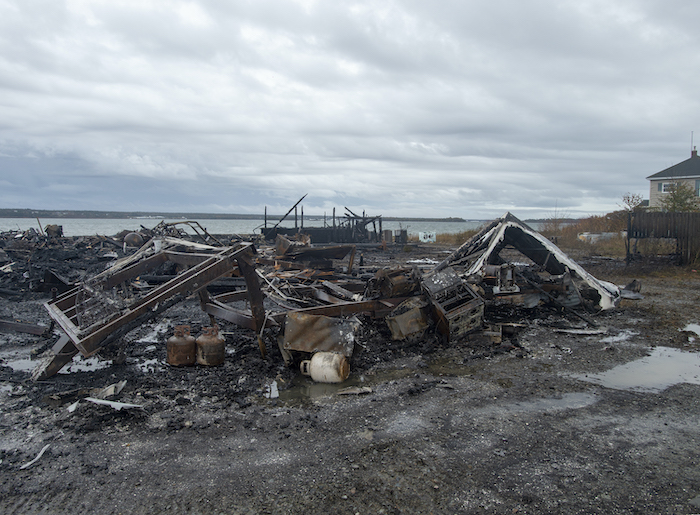 Debris from a large fire that destroyed an Indigenous lobster pound, or storage building, in Middle West Pubnico, Nova Scotia.  (THE CANADIAN PRESS /Andrew Vaughan)
At first, the commercial fishers set up blockades, removed Indigenous lobster traps from the water, and vandalized equipment. In the weeks since, their actions have grown far more dangerous, going from threats and intimidation to physical violence.
An Indigenous owned boat and van were set on fire. In mid-October, several Indigenous fishers were trapped within a pair of buildings and attacked by mobs of hundreds of commercial fishers. Thousands of pounds of Indigenous-caught lobsters were also removed from storage and ruined.
Then—on Saturday, October 17—a suspicious fire completely destroyed an Indigenous lobster pound (this is a place where live lobsters are stored before being sold). The fire is currently being investigated by the RCMP.
What are authorities doing about this?
NDP leader Jagmeet Singh said the attacks were "terrorism". Indigenous Services Minister Marc Miller said that they were "racist". And Prime Minister Trudeau has said that the violence toward the Mi'kmaq "is a situation that is extremely disconcerting and of real concern ... We are expecting the RCMP and police services to do their jobs and keep people safe."
This brings us to a big issue in this conflict—police response. Many critics have complained that the police have not done enough to calm tensions, enforce the treaty, and protect the Mi'kmaq. Others—like Singh—have said more directly that if it was Indigenous people attacking commercial fishers, the RCMP's response would not be so relaxed.
"In the case of violence, intimidation, and terrorist activities," said NDP MP Charlie Angus, "the RCMP has done little to protect the rights of Indigenous people who are practising their treaty rights."