This past February 13, NASA confirmed a 'death' in their family. It was of a machine, actually—the rover named Opportunity, which 'lived' on Mars for nearly 15 years.
This might seem a bit sad. But Opportunity's accomplishments are worth remembering with a smile. And maybe a little bit of awe, too. This bot was an overachiever for the ages.
It kept going and going ...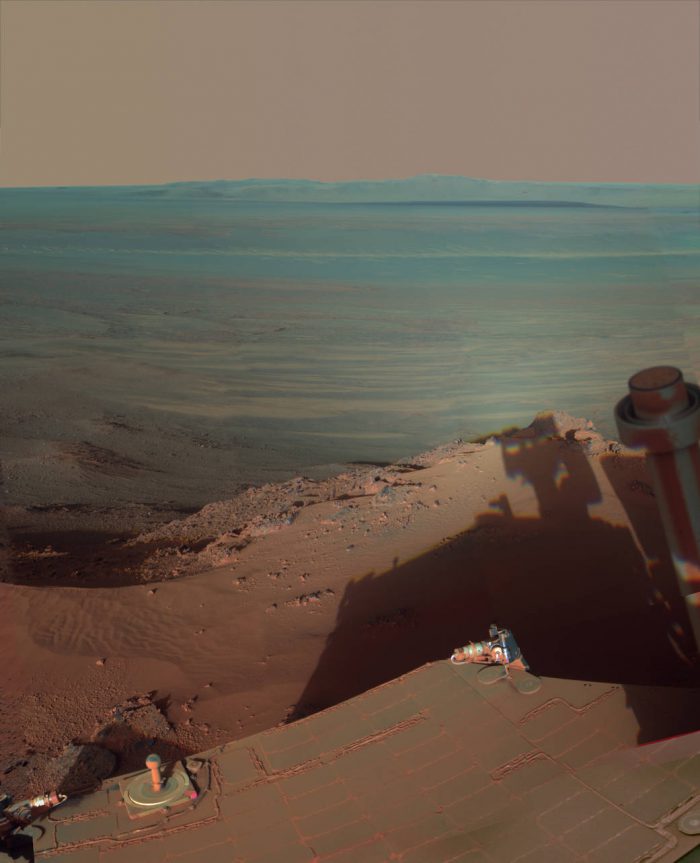 Opportunity took this beautiful picture of Endeavour Crater in March 2012. You can see the rover's shadow in the picture! (NASA)
Equipped with solar-powered batteries, Opportunity was designed to last 90 Martian sols, or days. This is about 92 Earth days. In total, it was expected to travel around one kilometre, far less than a mile. Instead, it was operable for 5,111 sols—that's over 56 times longer than expected. It traveled 45 kilometres (28 miles), as well.
Suddenly, what was expected to be a relatively brief mission turned into a marathon (which is 26.2 miles, a distance Opportunity literally traveled). Scientists were able to use Opportunity to greatly broaden our understanding of the Red Planet. The rover explored multiple craters and rocks, took over 200,000 images, and discovered important minerals, including 'blueberries' of hematite (a mineral that forms in water, helping to better understand how water once existed on the surface of Mars).
Even when its sister rover, Spirit, shut down in 2010, the Big O just kept on rocking. It started to feel like Opportunity's time on Mars would never end.
Last days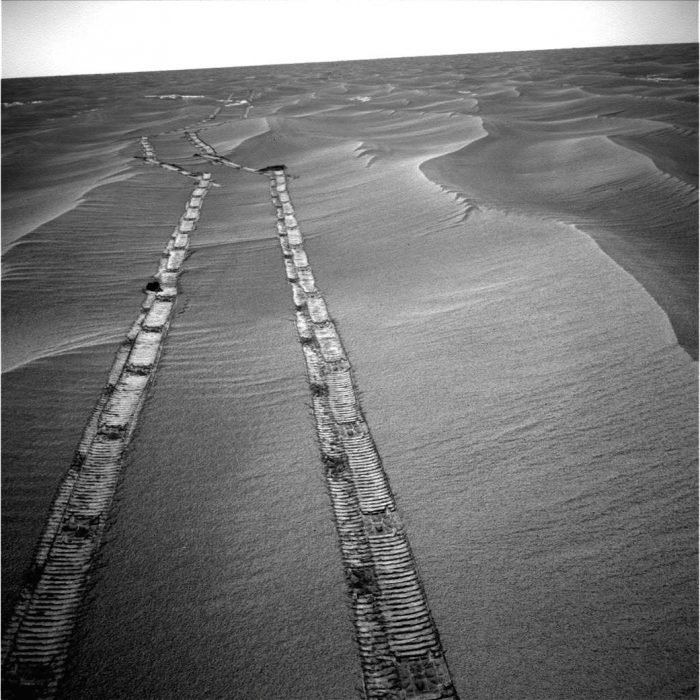 Opportunity's tracks in the Martian sand. (NASA)
So what led to the shut down of this record-breaking machine? In June 2018, an enormous, planet-wide dust storm blanketed Mars. Daylight was cut down to .002% of normal levels. And that's a big problem when you're talking about a solar powered machine.
On June 10, 2018, Opportunity shut itself down to try and conserve power. Like a phone or computer going into low power mode. Or an animal hibernating. The hope was that it could wait out the storm. But when the storm finally ended in late 2018, Opportunity didn't wake up. February 13 was the day that NASA announced that they were no longer going to try and contact the rover.
Steve Squyres–the principal investigator of the rovers' science payload at Cornell University—said in NASA's statement, "From the get-go, Opportunity delivered on our search for evidence regarding water. And when you combine the discoveries of Opportunity and Spirit, they showed us that ancient Mars was a very different place from Mars today."
Which is true! And with the rover Curiosity and the lander InSight working on Mars right now—and more missions coming in 2020—man and machine are far from being finished learning about our solar neighbour.
Watch some memories of Opportunity's exceptional life below!