Jeff MacInnis is an explorer, author, public speaker (and more!) who appeared in the very first issue of OWL Magazine. In 1976, Jeff joined his dad on a trip to the Arctic to do research on the narwhal. Forty years later, he's now going on adventures with his own son, 10 year-old Nathan. This summer they explored Georgian Bay together, and Nathan's here to tell us about it.
My Georgian Bay Adventure
My dad and I started from near our home at Blue Mountain. For this expedition we wanted to go all the way around Georgian Bay and explore several different places.
Our first stop was a hike at Lion's Head. I really loved the view out onto the blue water of Georgian Bay. The cliffs were quite high and exciting.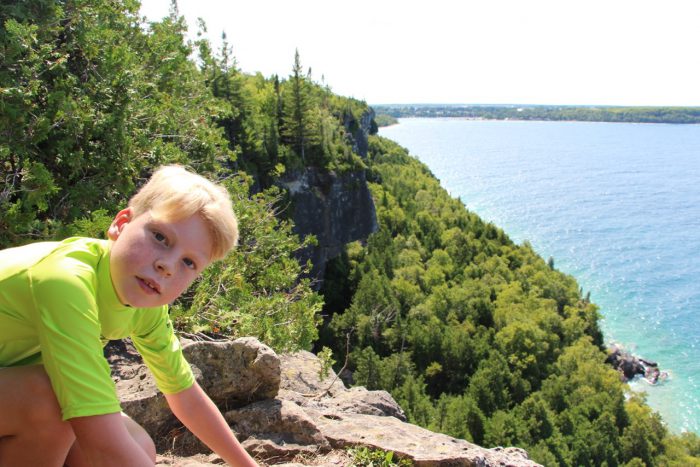 Wow, would you look at that view!
We drove north to Tobermory and dove on two shallow wrecks by paddling out on our paddle boards. Next we launched our boards and paddled to a great campsite. We pulled the boards up, found a flat spot, and set up for the night. I call my tent "the amazing pod" because it reminds me of an escape pod.
A storm developed over night and we had to move to higher ground away from the waves. In the morning, there was a brief rain shower. We launched into big waves and paddled fast for the safety of shore.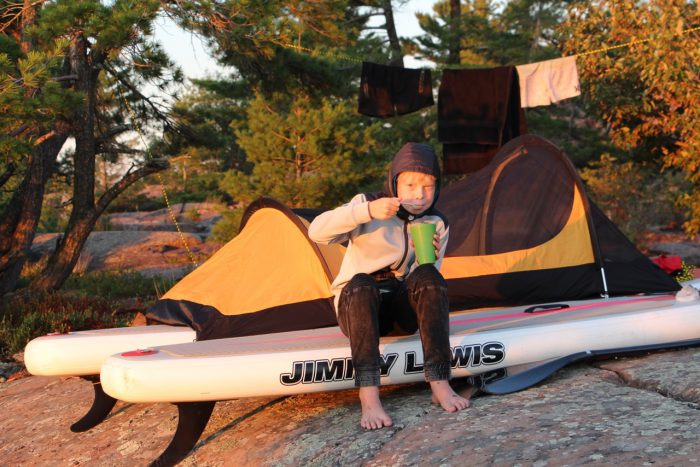 Nathan, his paddle board, and "the amazing pod."
Then it was onto the ferry from Tobermory to Manitoulin Island. A long drive across the island and around the bay, brought us near Killarney. We paddled out and found a wonderful deserted island. The high, smooth rocks were great to explore.
We spent the next two days exploring this part of Georgian Bay. One night, I saw my first northern lights, they were beautiful.
Then it was back to our car and onto the French River. We explored the museum and learned about the early explorers. Finally, we drove around the bottom of the Bay and back home to Blue Mountain.
We hope you enjoy our video!