Every two weeks, we publish a new issue of our tablet and computer-friendly eMag, OWLconnected. It's free for OWL magazine subscribers!
Today, Issue 114 of the eMag arrives and it is a dandy! From the wilds of the Arctic to lifesaving tech and a brand new animated fantasy, there's so much to read about.
Ready to be inspired? Entertained? Let's see what it's all about!
Layla and Raya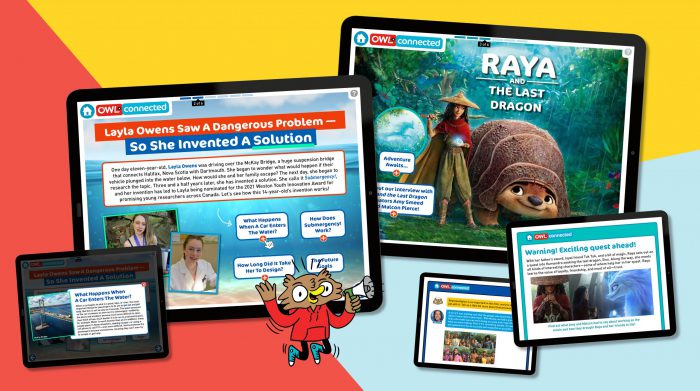 Our big feature this issue is on Nova Scotian inventor Layla Owens. This 14-year-old has created Submergency!, an ingenious device that is a true lifesaver. It is designed to aid people if their vehicle is accidentally driven into water and begins to sink. From contacting police to checking in on the passengers, you'll be amazed by what this teen designed.
Issue 114 also has an interview with Amy Smeed and Malcon Pierce, a pair of animators who worked on the new Disney animated feature, Raya And The Last Dragon. Featuring an awesome young female hero, references to Southeast Asian folklore, and, of course, dragons(!), this is going to be one terrific movie. We loved hearing how Amy and Malcon worked on bringing the film's characters to life and so will you!
And that is certainly not all. We've also got a comic, cool contributions from our readers in the Buzz section, and a quiz celebrating International Polar Bear Day (February 27). Who's ready to explore the Arctic?
If you're already a subscriber, you can click here to sign in to the eMag now.
If not, maybe it's time to take your OWL experience to new heights! Get ten print issues a year sent right to your door, plus over 24 issues of our exclusive eMag, by subscribing right here.