The Earth's surface is 70% water. We call it the Blue Planet for a reason!
Over 98% of that water is liquid—mostly in the oceans, as well as rivers, lakes, ponds … even that stuff in your glass (gulp! Ahhhh … delicious!). But the rest of it? That's ice.
You can find this ice in mountain glaciers and in lakes that freeze over for the winter. But most of it is found in the polar ice caps—massive year-round sheets of frozen water in the far northern and southern regions of our planet.
Except as climate change has brought warmer temperatures to the planet, something big has started to happen. This ancient ice has been melting.
Not all at once. And not evenly either—some of the ice is always melting and then freezing again as the seasons go from summer to winter. But overall, the average size of the ice caps has been slowly shrinking for many decades. And as that melting ice has become new water in our oceans, global sea levels have been rising.
This threat of rising levels is a huge part of what pushed the world to create the Paris Climate Agreement—an attempt to reduce the carbon emissions that lead to climate change. But as reports of melting ice continue to roll in from both the Arctic and Antarctica, it leads to an important question…
Can we stop the ice caps from melting?
INTERVIEW: Jill Rajewicz, Arctic researcher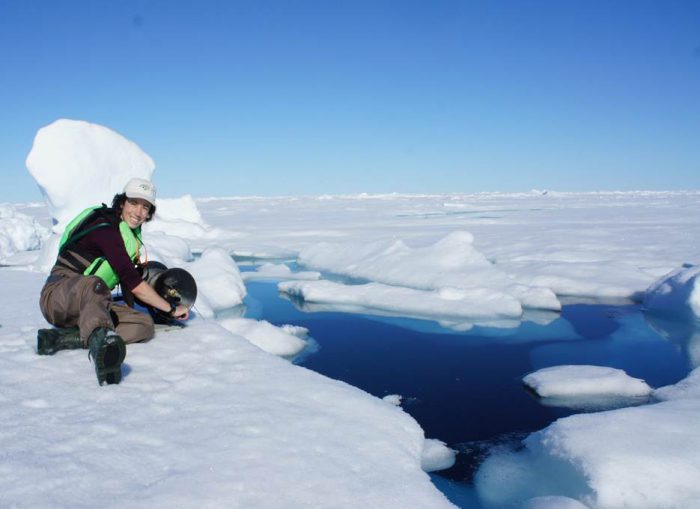 Jill spends a lot of her time studying Arctic sea ice—sometimes up close and personal! (Courtesy of Jill Rajewicz)
It's the sort of heavy question that can lead to some major brain freeze! That's why we asked Jill Rajewicz, a polar scientist at Carleton University, to help us understand this chilly subject.
OWLconnected: What exactly are the ice caps?
JILL: When we talk about ice that covers the polar regions (the ice caps), we are talking about two things. There's land ice—ice that starts on land, like glaciers and the Antarctic and Greenland Ice Sheets. And there's sea ice—frozen ocean water that forms, grows, and melts in the ocean.
The Arctic region is an ocean, surrounded by land. Some sea ice covers this ocean year-round.
Meanwhile, Antarctica is a continent that is 98% covered by ice (hello, Antarctic Ice Sheet). Antarctic sea ice is seasonal—it melts away and reforms every year.
There are rapid changes occurring to both land ice and sea ice at the poles. These changes are mostly likely due to increasing air and ocean temperatures resulting from greenhouse gases emitted by human activities.
Scientists research melting land ice on the Greenland Ice Sheet in 2013. (Getty Embed)
OC: Do different things happen when land and sea ice melt?
JR: When land ice melts, the water flows into the ocean and raises sea level. Bad news.
When sea ice melts, it does not raise sea level because it is already in the ocean! However, the shrinking of the Arctic sea ice is still a big deal.
Sea ice has a bright surface—80% of the sunlight that hits it is reflected back to space, keeping things cooler. As less sea ice covers the Arctic Ocean, there is more dark surface water exposed, which absorbs sunlight instead of reflecting it. That causes the ocean to heat up, which then causes warmer Arctic air temperatures, which then leads to more sea ice melt ... it creates a warming cycle.
Though polar bears are excellent swimmers, they still need strong sea ice to hunt seals and survive. (Getty Embed)
OC: What state are the ice caps in right now?
JR: Sea ice in the Arctic is disappearing. Not only is the area covered by sea ice shrinking, but the ice is becoming thinner. Thinner ice is more likely to melt during the summer. Scientists predict that eventually, there will no longer be a year-round cover of ice on the Arctic Ocean. In terms of Arctic land ice, glaciers and the Greenland Ice Sheet are losing ice, as warmer summers cause more melting.
In Antarctica, the huge ice sheet is also shrinking. Air temperatures there are very cold, so ice loss—while less dramatic than in the Arctic—is mainly caused by warmer ocean temperatures that melt glaciers from below.
OC: So how can we stop the ice caps from melting like this?
JR: The only way to limit these changes is to reduce our greenhouse gas emissions. You can write letters to leaders and politicians in your community to ask them to commit to tackling climate change. You can also research groups who are already working on these problems and get involved!
Things like walking or riding your bike instead of driving, turning off lights and appliances that you aren't using to conserve energy, putting on a sweater instead of turning up the heat, and reduce, reuse and recycle! Encourage your family, friends, school, and community groups to do these things, too.
And if you're really keen, try exploring "green careers" (like a renewable energy scientist!) where you will get to help solve climate-change challenges first hand.
Freezing our future
Antarctica may be on the other side of the world, but it's still part of the same planet: Earth. (Getty Embed)
The ice caps are so enormous that they are difficult to comprehend. And they are so far away from where most of us live. But they are connected to all of the other water around us. What happens to them, happens to us, too. If you're concerned about their future, don't fret. As Jill reminds us, every small change YOU make CAN make a difference!