Every May, we partner up with our friends at NSERC (the Natural Sciences and Engineering Research Council of Canada) for ... drum roll, please ...  Science Odyssey!
This two-week event is a massive celebration of everything STEM. Starting Monday and running until May 22, we'll be posting daily articles that dig into the world of science and engineering. We'll be talking innovations and inventions, discoveries and theories, and also include interviews with inspiring young scientists. What could be better than that?
Well, how about a contest!
The Science Odyssey Contest is back
The Science Odyssey Contest is always a lot of fun. Test your science skills to the max—and maybe win some great prizes as you do it!
This year the contest prizes are: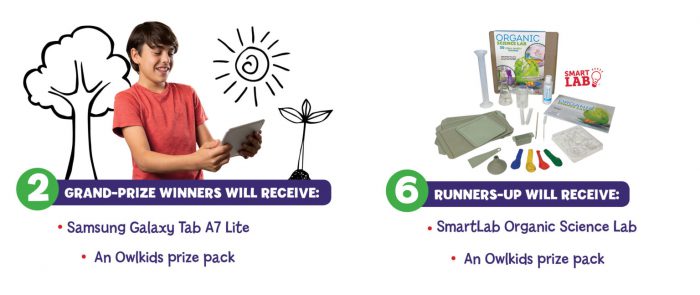 How do you enter?
This year's contest theme is the environment. Get together with friends and family and brainstorm ways that you will go green. It can be through experiments, changing habits, reading about science-related issues, and more. As long as it all relates to the environment.
Then document your work by taking a photo or video, or writing a paragraph about it. Visit our website and submit an entry form! The deadline is May 30, 2022.
Have a truly happy Science Odyssey, everyone and stay green out there! To help give you a little inspiration for your entry, here's OWLconnected senior writer John taking about what he's doing to make things a little greener.
Contest alert
Don't forget to enter the Science Odyssey Contest! CLICK HERE TO ENTER.