The summer holidays are winding down and school is just around the corner. (In fact, for those of you going to a year-round, you've already been there for a while!)
A school is easily one of the important places in any community. It's more than just a building where young people learn. It is also where clubs gather, karate classes are held, swimming meets happen and so much more.
That's why it was so devastating to the tiny community of Kugaaruk, Nunavut when Kugaardjuq School — its only school — burned down this February.
A terrible tragedy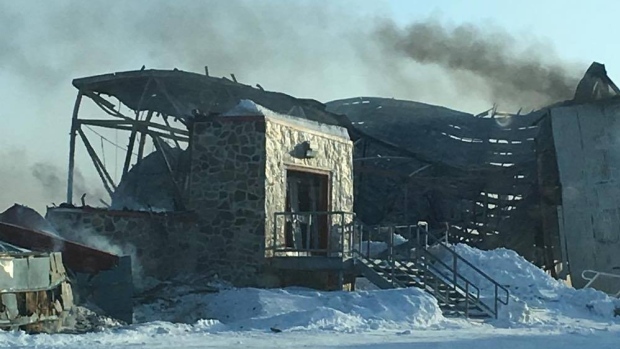 The stone entrance to the school was one of the few parts of the building that survived the fire. (Liederick Ammaq Illuitok)
Kugaaruk is a small village located on the northern edge of the Canadian mainland. It has a population of around 970 people. And Kugaardjuq School was a modern school that had a gymnasium, science lab, computer lab, and taught kids from kindergarten to Grade 12. It had about 300 students—that means that approximately one in three people in the village used the school every day!
Then it was completely destroyed by fire on the night of February 28. Estimates were that the school would cost $25 million to rebuild.
A T-riffic idea
Meanwhile, Jackie Catania, the owner of a store in Stratford, Ontario called Treasures, was looking for a way to include Indigenous culture in her store's Canada 150 celebrations. She reached out to friends for advice. One named Aaron Watson came up with a wonderful idea. Aaron used to live in Stratford, too, but was now living in Apex, Nunavut. He suggested to Jackie that his daughter, Karena, might be able to come up with a good T-shirt design.
Jackie agreed and asked Karena to give it a shot. A little while later, Karena's illustration arrived. She drew a caribou and a dog sled team in front of a maple leaf. Around the image was written in Inuktitut (an Inuit language) and English, "Together we achieve more."
Selling out and raising up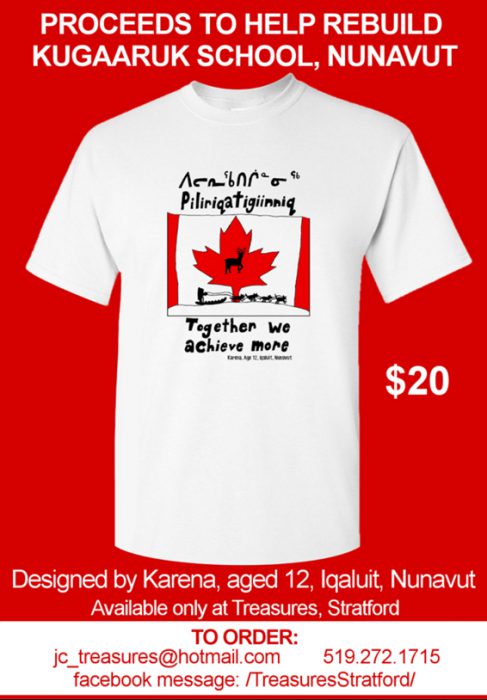 The T-shirt is ready for orders! (Facebook/Treasures Stratford)
Jackie thought it looked great and printed up the shirts. She announced that the proceeds (or money made from selling the shirts) would go to helping to rebuild Kugaardjuq School. Word spread about the shirts and they quickly sold out. So Jackie made more. Those sold out, too.
"We're getting people from every corner of the country (ordering) these T-shirts," Jackie told the CBC last week. "It's very touching."
So far, the sales of the shirts have raised over $1500, and they're still going strong. Yes, it's true that this is still not close to all of the money needed to replace the school. But the fact that a shopkeeper and a young girl are working together across the country to give money to a village almost 3,000 kilometres away is great news.
As for the school's replacement, village officials are currently looking into plans for an even larger school, which will be built in the location of the old one. Until then, the community has kept education going by moving the students and classes to various locations across the village.
As Karena's shirt says, they are achieving more together.