Every two weeks, we publish a new issue of our tablet and computer-friendly eMag, OWLconnected. It's free for OWL magazine subscribers!
This latest issue finds us embracing spring in a big way. We've got changing seasons, seasonal pranks, and an animal that is so small you might think it's a prank ... but it's real! Ready to have Issue 116 sprung upon you?
It's out today, so let's see what it has in store for us all!
Nano-chameleons are real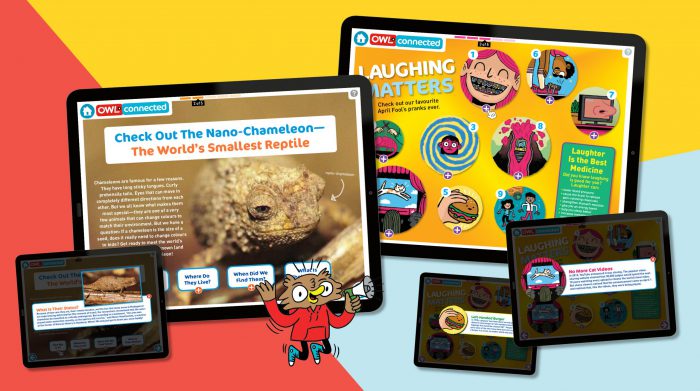 The first day of spring has arrived (March 20), and to get everyone up to speed, we look at the astronomical phenomenon that marks the season's beginning. The equinox! The spring equinox is a unique moment in the year—a time of equal day and night, and of transition from cold sleep to warm awakening. And it all comes down to the angle of the Sun to the Earth.
And to help celebrate the season of new arrivals, we introduce you to a brand new animal—the nano-chameleon. Of course, when we say 'brand new', we don't mean that it was just created. Only that it was just discovered. And when you see it, you'll understand why! This creature is the size of a sunflower seed and is the smallest known reptile in the world.
Shifting gears, this issue's video is really special. It is a conversation with author/illustrator Thao Lam, talking about how and why she made her new book, Thao. Thao is all about her experience growing up with a name that was unfamiliar to her peers. Though this is a meaningful topic, she finds a way to approach it with lots of humour and warmth—both in the book and in the video!
And finally, we salute the silly part of this time of year with our collection of the greatest April Fool's pranks. Will any of your faves make the cut? Check out the issue to see for yourself!
And speaking checking it out, if you're already a subscriber, you can click here to sign in to the eMag right now!
If not, maybe it's time to take your OWL experience to new heights! Get ten print issues a year sent right to your door, plus over 24 issues of our exclusive eMag, by subscribing right here.