Would we eat a meal cooked by robots?
Maybe not one by this guy (it's cute and all, but does it actually know how to cook?)
But if it was the bots used at a new Boston restaurant called Spyce, we're totally on board. It uses an automated system that takes orders, collects ingredients, and cooks a meal without any human involvement. Human workers at Spyce then collect the meal, add a few finishing touches, and hand it to the customer.
Have a look!
Cheaper, faster...
As the video mentions, Spyce was started by four students at MIT (Massachusetts Institute of Technology). The students said that they found it difficult to find restaurants that served healthy meals for cheap. They realized that a big part of the cost of restaurants went into paying the staff—cooks, dishwashers, kitchen prep. If they could automate some of that, then they could bring costs down. Sounds good, right?
True to their idea, their food is cheaper than at other competitors. A bowl that would cost between $12 to $14US elsewhere comes to about $8US at Spyce. And using rotating woks that cook evenly and quickly, the food is ready three minutes after you order. An automated quick steam (which uses 80% less water than a conventional dishwasher, by the way), and the wok is ready for the next order. Amazing!
... better?
Fast food restaurants like Chipotle give jobs to hundreds of thousands of people in North America. Will places like Spyce change that? (Getty Embed)
Early reviews of Spyce's food say that it is delicious. It looks good to us! But there are some who are worried about this concept. Why?
Restaurant jobs—especially at fast food places—employ a lot of people. Though Spyce does employ some people to finish off each meal and help prepare ingredients, it has a much smaller staff than at similar restaurant. So while these types of restaurants could make eating out cheaper, they could also be cutting jobs.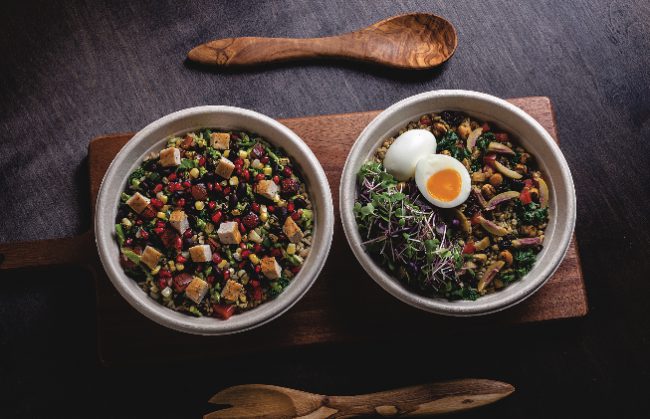 The menu is designed by human chefs and supervised by garde mangers, who add the sauces and garnishes that complete each bowl. (Getty Embed)
For now, this is just a brand-new idea. But with robot hotels in Japan, robot pizza waiters in Tehran, Iran, and even ordering screens in some McDonald's, it is clear that these sorts of machines are coming. What do you think? Are you excited about a robot cooking your next meal? Or would you miss the human touch?
Yeah, we agree—better to not make that decision on an empty stomach. Let's eat!