The future of electric vehicles is exciting, mysterious, and—in the fight against climate change—very important. Exhaust from gas-powered cars and trucks is a massive contributor to greenhouse gases. And even with exciting advances in public transit, cars are not going anywhere. People love being able to drive around!
We often hear about what California electric vehicle (EV) maker Tesla is doing. But Tesla is not alone in this field. In fact, one really interesting upstart company is Canadian!
Called Daymak Avvenire, they got their start 20 years ago making electric bikes in a Toronto garage. Now, this successful company has unveiled its first-ever car. And it is super neat.
The Spiritus is a three-wheeled(!), two-person sports electric vehicle that is the fastest of its kind. What does it look like in action? Have a look here!
Electric vehicles are heating up!
So wild, right? Our favourite part is how it looks like a 'normal' car from the front ... until it drives past you and you can't help but think, "Where did the rest of it go?"
But make no mistake—this is a complete vehicle. And it may even be a glimpse into what the future looks like: Fully electric vehicles that are powerful, sleek, and not afraid to bend the rules of what a car should be.
In the case of the Spiritus, this is a car that is clearly designed to be fun, while also being eco-friendly. It is the fastest three-wheeled car in the world (the Ultimate model can go 170 km/h, or 105 mph), but has a cutting-edge electric battery that can drive about 400 kilometres (249 miles) on a single charge—that's Toronto to Ottawa. Not bad!
It also has a bunch of really interesting features. It uses regenerative braking, which actually uses power created by hitting the brakes to help recharge the car's battery a little. The car has solar panels to power things like its display panels. And maybe the most interesting? It mines cryptocurrency as it is being recharged! (This final feature is difficult to explain, but for a primer on crypto and NFTs, read a previous post here.)
Future now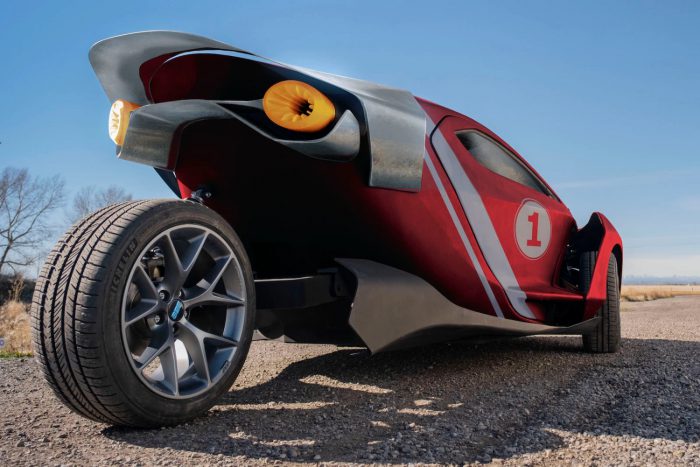 That is one cool car! (Daymak Avvenire)
Is the Spiritus a practical car for everyone? No. As a two-seater with a small trunk, it is basically just about getting two people from one place to another in speed and style. This is not a car for grabbing two weeks' worth of groceries or family vacations. But as more and more companies experiment with EVs—different styles, different capabilities—we get closer and closer to them becoming the new everyday vehicle.
Until that day arrives, we'll just have fun imagining taking one of these grown-up go karts for a spin!