We love this story out of a luxury hotel in Marana, Arizona. The Ritz-Carlton Dove Mountain is a 5-star resort near Tucson. Like most posh hotels, it has all kinds of fancy features: a spa, golf course, pools, waterslides, hiking, canyons, year-round sunshine... and its own wildlife!
In particular, they have a tortoise enclosure that is home to an African tortoise named Wamba. And he seems to understand that he lives at a hotel, because hospitality comes naturally to Wamba. Just ask his new itty bitty houseguest: a baby bunny.
Make yourself at home, little bunny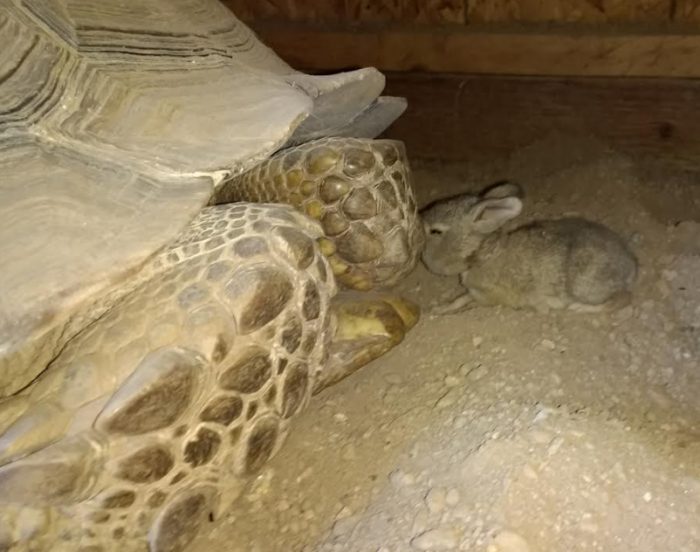 Wamba and his bunny buddy share a wee nuzzle. (The Ritz-Carlton, Dove Mountain)
Back on the evening of February 17, a desert cottontail rabbit kit appeared in Wamba's enclosure. Ron Brink, the ranger who supervises the Dove Mountain animals, guesses that the bunny was only about two weeks old when it arrived. The little animal was in pretty rough shape, strangely tangled up in plants that were digging into its skin. "We found that the bunny had stuff wrapped around his neck, like grass and weeds," Brink told the animal website, The Dodo.
Amazingly, when Brink found the animal in Wamba's enclosure the next morning, the much larger tortoise hadn't tried to shoo it away. In fact, the pair were already cuddled up together.
Life-saving help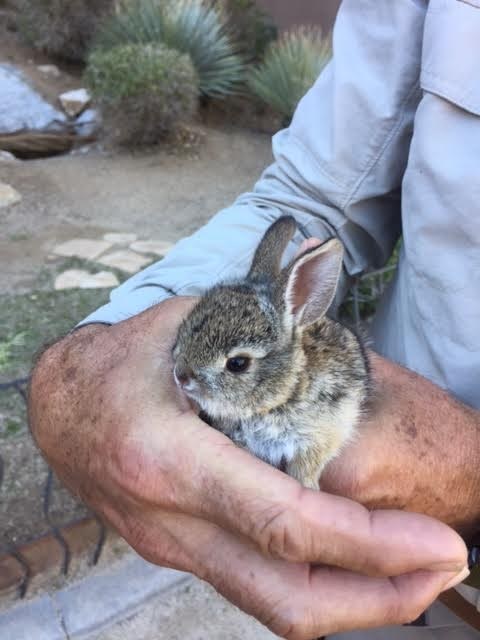 This little rabbit is hoppily on his way to recovery. (The Ritz-Carlton, Dove Mountain)
Brink quickly moved to untangled the rabbit. But without Wamba allowing the fluffy mammal to stick around (and be discovered by a person who could help him out), he probably would not have made it. The even sweeter part of this story? Wamba himself was a tiny orphan that Brink agreed to raise 11 years ago. And now, this reptile has helped another lost young animal get a second chance.
Brink isn't going to keep the bunny forever, but he is going to feed and care for him for the next few weeks. Then he will be strong enough to be released back into the wild. All in all, that's one hoppy story. Way to go, Wamba!